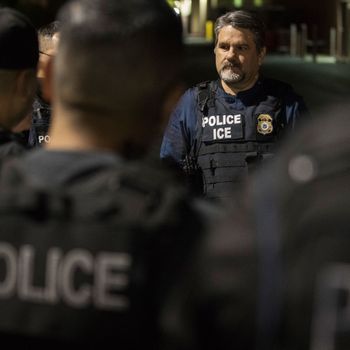 ICE has taken an aggressive approach under the Trump administration.
Photo: Brian van der Brug/LA Times via Getty Images
When President Trump took office more than a year ago, many feared that his administration would create a mass deportation force to round up millions of immigrants who are in the country illegally.
That hasn't happened. But the reality has still been sobering.
The Washington Post reported on Monday that Immigration and Customs Enforcement (ICE) arrested 37,734 undocumented "noncriminal" immigrants in the 2017 fiscal year, more than double the amount in 2016. This category of people includes those facing charges and those with no criminal records at all.
ICE also arrested 105,736 immigrants who had been convicted of crimes, a small uptick from 2016. The overall number of arrests was up 40 percent from the previous year, but still well below previous highs; in 2013, at the peak of its enforcement, the Obama administration deported a record high 434,015 people. Obama shifted priorities after that year, when it became clear that Congress would not pass a comprehensive immigration reform bill, and the deportation numbers plunged.
The leap in arrests last year can almost certainly be traced back to a distinct shift in priorities laid out by the Trump administration shortly after the president came into office. Weeks after his inauguration, the Department of Homeland Security issued new guidelines that allowed ICE to adopt a more aggressive posture than it had in the latter years of the Obama administration.
This means that immigrants who had previously considered themselves safe from deportation are much more likely to be rounded up in a raid, or at the check-ins with ICE that had previously been routine affairs. And ICE agents who were previously told only to target people who were high priorities for removal — drug dealers, gang members, and the like — are more likely to sweep up people who have no involvement with their ostensible targets.
Many ICE leaders and agents had considered themselves severely limited by the Obama administration's directives. "Morale amongst our agents and officers has increased exponentially since the signing of the orders," the unions representing ICE and Border Patrol agents said in a statement last year, shortly after the new diktat went into effect. Thomas Homan, the border-wall-supporting acting head of the agency, has been unapologetic about the shift in priorities. "If you violate the laws of this country, if you enter illegally — which is a crime — it's not going to be okay anymore," he said recently.
This indiscriminate approach has sparked plenty of outrage, with new cases receiving national attention regularly. Just in the last few weeks, there was Syed Ahmed Jamal, a 54-year-old chemist with no criminal record beyond speeding tickets, who was arrested while taking his daughter to school; a Palestinian business owner and father of four who had helped revitalize Youngstown, Ohio, but was deported after 38 years anyway; the Detroit man forced to say a tearful farewell to his wife and children after 30 years, despite lacking any criminal record; and more.
Still, multiple factors have limited the number of arrests the Trump administration can make. Many major cities that don't agree with the administration's approach have policies forbidding them to turn over immigrants who have been detained for unrelated violations, and there are simply not enough ICE agents to track down the roughly 11 million people who are in the country illegally. And once ICE arrests someone, there are often formidable obstacles to actually deporting them, most notably an enormous backlog in immigration courts.
But this is all cold comfort for many undocumented immigrants who had become used to a certain degree of freedom, and who now find themselves in a much more precarious situation.