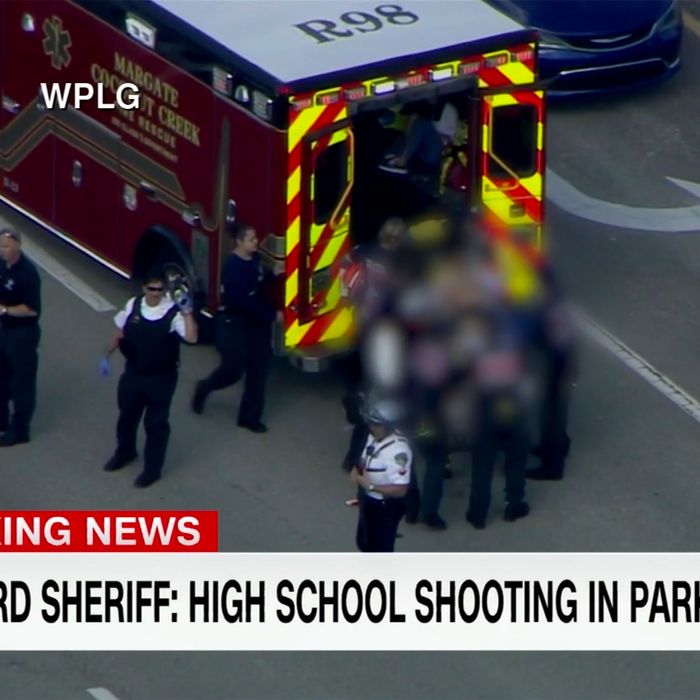 An ambulance outside Marjory Stoneman Douglas High School.
A shooting at Marjory Stoneman Douglas High School in Parkland, Florida, has killed 17 people, Broward Sheriff Scott Israel said Wednesday evening. It's the third deadliest school shooting in U.S. history, behind the massacres at Sandy Hook and Virginia Tech.
Israel said 12 people were killed in the school and three outside of the school. Two more people died at the hospital. He added that the shooter used an AR-15 and multiple magazines.
"It's a day that you pray every day when you get up that you will never have to see. It is in front of us. I ask the community for prayers and their support for the children and their families," Superintendent Robert Runcie told reporters. "We received no warning … Potentially there could have been signs out there. But we didn't have any warning or phone calls or threats that were made."
The suspect, who began shooting just before dismissal and just after a fire alarm went off, escaped campus after the shooting and managed to get about a mile away before police tracked him down.
Sheriff Israel identified the suspect as 19-year-old former student Nicolas Cruz, who, the Miami Herald reports, was identified last year as a potential threat to his classmates. "We were told last year that he wasn't allowed on campus with a backpack on him," math teacher Jim Gard told the paper. Gard, who was locked in his classroom during the rampage, said the suspect was a former student of his. "There were problems with him last year threatening students, and I guess he was asked to leave campus."
In the aftermath of the shooting, videos taken by students inside of the school began to surface.
SWAT teams were still clearing the school, which is attended by around 3,200 students, more than two hours after the shooting, as parents gathered at a staging area about a mile away from the school, waiting to be reunited with their children.
Florida governor Rick Scott and President Trump both tweeted messages of condolences to the victims.
This post has been updated throughout.