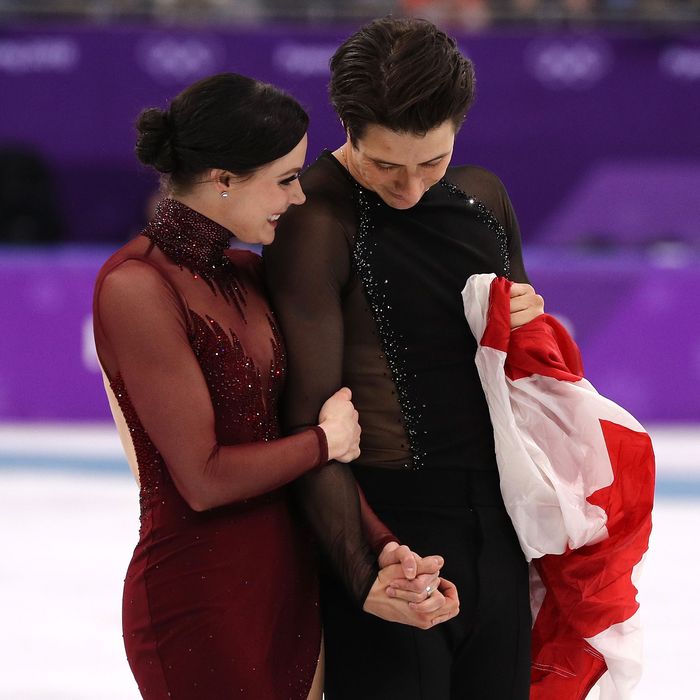 Canadian ice dancers Tessa Virtue and Scott Moir are the hottest thing in fan-fiction.
Photo: Maddie Meyer/Getty Images
Tessa Virtue and Scott Moir are not a couple. Tessa Virtue and Scott Moir are a couple of skaters, but they are not a couple. The Canadian ice-dancing duo took home Olympic gold in Pyeongchang on Monday — their third Olympic gold over a career spanning more than two decades — skating to selections from Moulin Rouge, sans one lift they had to cut because it was deemed too sexy for competition. (It involved Moir holding up Virtue while she wrapped her legs around his neck.) Still, the routine had plenty of sex appeal. And if watching Moir and Virtue skate has you feeling some kind of way, you're not alone. Tumblr, Twitter, and the wide world of fan-fiction are here to keep you company.
Want to know what Tessa and Scott were up to in the hours after taking home the gold? Try "Gold Medal Decision," in which Virtue and Moir, overcome by emotion following their win, have sex all night long and only stop when their coach, Marie-France Dubreuil, knocks on their door to inform them that the prime minister is calling to congratulate them.
"Scott …" she breathed out.




She wanted him so bad he leaned over and kissed her letting his figures to continue to brush across her stomach.




"My beautiful Tessa" he whispered in between kisses. She ran her fingers through his hair she loved so much he kissed her neck looking for the place that would turn her on even more than she already was. She gasped when he found the right spot right under her jaw by her ear that she loved so much. Scott kissed his way back up to her lips. Running his hands up and down his sides whispering to him just how much he wanted her, is when it truly sunk in just how much she truly loved her, loved him fully without a doubt, true love.
Perhaps you're interested in something a little less blatantly erotic. Cool. "It Came to Me in a Dream" offers up an origin story for how Virtue and Moir settled on Moulin Rouge music for their routine.
He let's his hands rub up his cheeks and through his hair and looked back at his computer screen. He took a deep breath, and decided to give it one more try, and there was only a few songs left. He put his headphones back in his ears, hit play, and the first notes of "Come What May" rang through. 




He thinks of Tessa. He thinks of lifting her high into the air, and slowly lifting her back down into the safety of his arms. He thinks about how she excitedly described all the feelings this song gave her, from love, to desperation, to longing, and all that fell in between. He writes out the lyrics he loves the most. 




Never knew I could feel like this 

Like I've never seen the sky before

I want to vanish inside your kiss
The description for this one reads "Tessa goes into heat right before their individual free skate in Pyeongchang." Sure.
But their choreography is intimate and in each other's personal space, and he already starts to get a bit of an erection. The lifts are simultaneously the worst and best part of the program, because her pheromones are as strong as if she bathed in perfume, and he gets a noseful of her scent often enough during the routine that almost buckles his knees. He doesn't know how they will get anything but a record-breaking score for artistry today, because their acting out Christian and Satine desiring each other honestly isn't acting anymore. Every time Tessa brushes against his crotch he hardens, and she actually gasps out loud when he gets closer than normal and perhaps intentionally briefly rubs his bulge against her ass.
"Don't Play With Me, Cause You're Playing With Fire" offers you over 13,000 words about how the rules of their skating club do not allow fraternization between athletes. This, obviously, gets ignored, though not before you have to read through several chapters of unrequited longing.
Their first kiss is hungry, eager, all-encompassing. Months and months of unexpressed feelings released in one simple act of affection. He cups her face, strokes her cheek, then moves his hand lower down to rest on her waist. She has one hand at the back of his neck, running her fingers through his hair. Their other hands stay intertwined for a while, just the way she caught him when he was trying to leave. After a while, they both need to breathe and Scott's heart is pounding against his ribcage so hard, he thinks it might explode any moment. They pull back and gaze into each other's eyes, and that's when one lonely tear runs down Tessa's cheek. It's followed by another, and another. Scott's brow creases and he reaches out to wipe them away. His hand is warm and soft against her cheek and all she wants to keep doing for the rest of her life is lean into his touch.
And in case you've ever wondered what Tessa and Scott get up to while flying around the world to get to skating competitions, we present the not-so-subtly titled "Never Have I Ever (Been to the Mile-High Club)."
Tessa demonstrated her self control when she allowed an entire minute to pass before getting up and walking towards the back of the plane. Sure enough, Scott was right and almost everyone was sleeping, including the flight attendant mid way up. Scott was not walking around but the light to the bathroom as on, and before she could hold back, she made her way towards the back. She knocked on the door very softly a couple of times before Scott opened it and she slipped inside. 




"So if we actually go through with this, does that mean we both win or both lose?" Tessa asked before he pulled her in for a kiss.
Virtue and Moir have said that Pyeongchang will be their final Olympics. Though if you'd like to know what's next for the duo, you could always just read this little number set in 2021, as the pair decides how to reveal their pregnancy to their friends in the cast of Halifax Stars on Ice.
This year Tessa and Scott started off the show shortly followed by the rest of the cast. So that's how they were going to announce it, Tessa costume was fitted so that her baby belly was clearly visible. Tessa didn't take of the jacket until they were safe with their backs to their cast and moments before they skated. As soon as the lights came up they could her the gasps as people saw Tessa's stomach. The opening number was a hit, and it was not until they had all exited the ice and Kurt's solo had begun that they were attacked by their fellow cast mates, everyone was hugging and giving their congratulations and Tessa was almost certain she had seen Kaitlyn and Patrick crying but she didn't say anything.
Virtue and Moir forever!