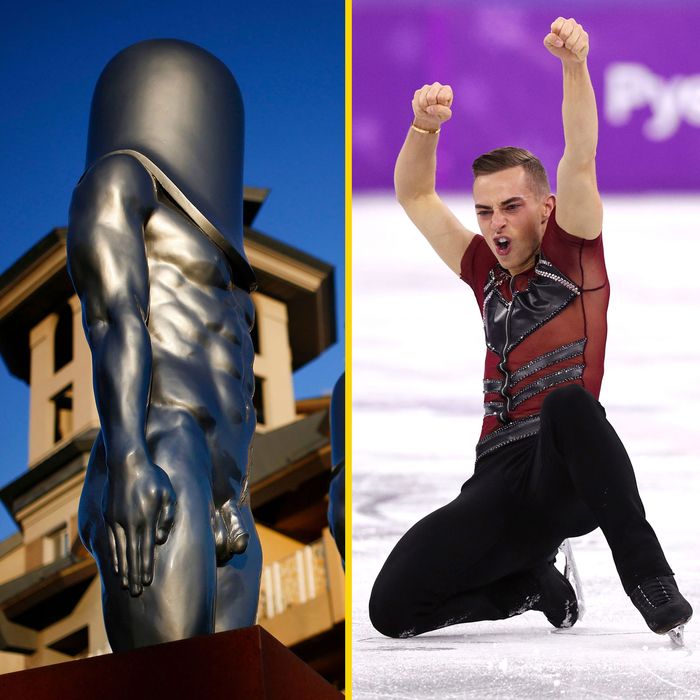 The Winter Olympics are, in case you forgot, actually about memes and not about sports.
Photo: Ryan Pierse/Getty Images; Nic Bothma/EPA-EFE/REX/Shutterstock; Maddie Meyer/Getty Images
We're about a week into the 2018 Winter Olympics. During the first week, we watched as our athletes sweat, cried, and worked for the … actually, who am I kidding? We watched for the memes. Which is why you're here, too. So, without further ado, Select All presents the best memes — so far — from Pyeongchang.
The Return of the Tongan Flag Bearer
Two years after his debut performance in Rio, Tongan athlete Pita Taufatofua came back for round two. This time around, Taufatofua is competing as a cross-country skier — he competed in Tae Kwon Do in Rio — but he showed up to carry his country's flag during the Opening Ceremony looking as shirtless and oily as ever, despite the 28-degree weather.
Meta-Glasses
With a bold sartorial choice one can only assume will be all the rage at the next New York Fashion Week, South Korean figure skater Alex Kang-chan Kam launched himself to meme status after dramatically pulling off a pair of Olympic rings–shaped glasses to reveal a second pair of shades beneath them.
Chloe Kim's Tweets
In addition to, you know, winning gold, extremely good snowboarding teen Chloe Kim found time — quite literally between half-pipe runs — to keep her fans updated on Twitter. Mostly with several very relatable tweets about being hungry.
Bullet Man
There are three statues standing outside the Alpensia Ski Jumping Center in Pyeongchang and, well, they look like a hybrid between a naked man and a giant silver penis. Called "Bullet Man," the statues were reportedly created to represent "the human desire for a cool body." Memes, obviously, have ensued.
Every Word Adam Rippon Has Uttered This Week
Ice skater Adam Rippon said he "just wants to make Reese Witherspoon proud." He told a reporter that his excellent performances this week can be, in part, credited to witchcraft. And he quoted Drag Race to all his haters on Twitter before winning a bronze medal, "I'm a glamazon bitch ready for the runway." Also, there's that whole feuding with Vice-President Mike Pence thing.
The "P.F. Chang's" Goof
The Olympics are being hosted by the South Korean city of Pyeongchang. Which is not to be confused with America's Asian-inspired restaurant chain P.F. Chang's. Which is exactly what Chicago television station WLS-Ch.7 did on air and then tried to excuse by saying that the P.F. Chang's graphic was for a satirical spot about the games. Yikes.
This Kid Licking a Camera
Have you ever been nearby an NBC camera broadcasting live around the world and wondered, Gee, what do you think that lens tastes like? Well, this kid in South Korea — who appears to have tried his hardest to get his tongue on a camera — probably has your answer.
Let the games continue.