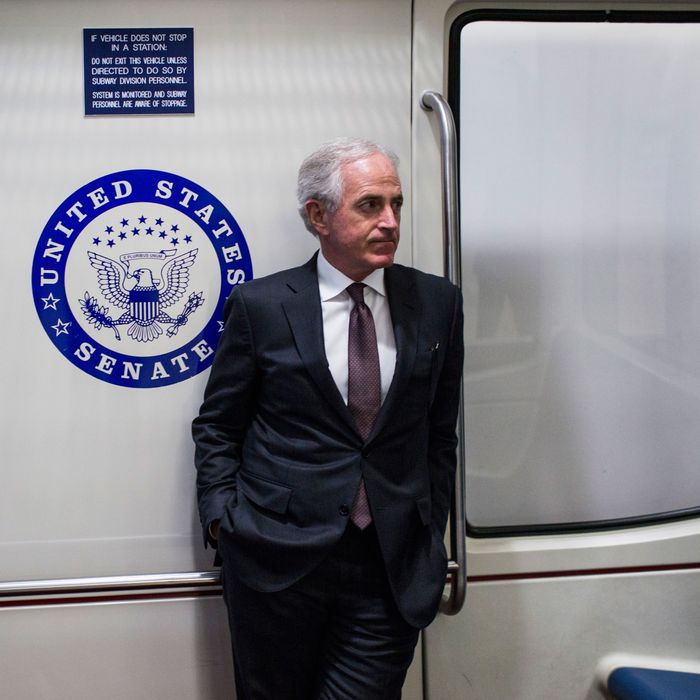 Senator Bob Corker in the Senate subway on January 11, 2018, in Washington, D.C.
Photo: Zach Gibson/Getty Images
After weeks spent reconsidering his previously announced decision to retire, Tennessee Republican senator Bob Corker said on Tuesday that he is definitely, absolutely not running for reelection this year.
"He's always believed and served as though he were only going to be in the Senate for two terms," Todd Womack, Corker's chief of staff, said in an interview with Politico. "And he was willing to listen to folks but he really believes the decision he made in September was the right one and is going to be leaving the Senate at the end of the year."
Corker, the chair of the Foreign Services Committee and one of the most powerful Republicans in Washington, briefly won sympathy on the left when he got into a deeply silly war of words with President Trump last fall. (Does "adult day-care center" ring a bell?)
Since then, tensions have cooled between the two men. And Corker gave the president a big win when he signed on to the GOP's tax bill despite theatrically holding out hope that he would stick to his pledge not to raise the deficit. Still, even though Corker has reliably voted with Trump, his criticism has made him practically persona non grata among the president's true loyalists.
Corker likely would have needed Trump's endorsement to fend off Marsha Blackburn, a Tennessee congresswoman who is now the lone credible Republican in the race. Polls show Blackburn, a Trump enthusiast, well ahead of Corker in the reliably Republican state. But Trump has expressed enthusiasm about Blackburn and stayed silent on Corker, and given the president's deep well of resentment toward anyone who has ever crossed him, a change of heart would probably not be forthcoming.
Corker's final decision may be a disappointment for Phil Bredesen, the Democrat in the race. Bredesen, a former Tennessee governor, is seen as having an unusually good chance at beating a Republican in a statewide contest, but he probably could have benefited from some internecine GOP warfare ahead of his underdog bid.