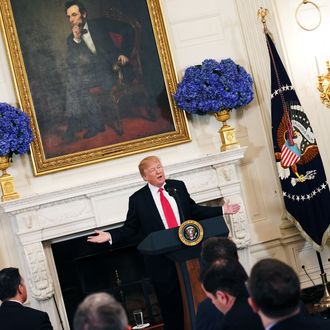 Donald Trump.
Photo: Mandel Ngan/AFP/Getty Images
Donald Trump was unable to serve his country during the Vietnam War due to his crippling bone spurs. He has spent his life since then proclaiming his love of the military that his affliction prevented him from joining (or sometimes using his love of the military as political cover). Today, Trump told a meeting of governors he would have stopped the Parkland school shooting had he been an officer on the scene. Indeed, he would have charged the shooter if he had no weapon: "I really believe I'd run in there even if I didn't have a weapon."
Except for the bone spurs, he means. Obviously the bone spurs would have prevented him from running into a combat scene. Otherwise he could have joined the Army as a younger and much thinner man.