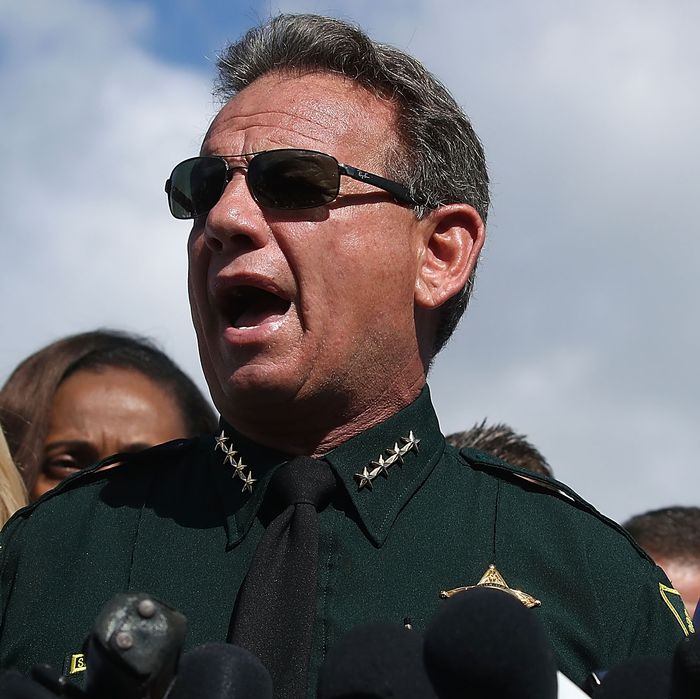 Broward County Sheriff Scott Israel and Governor Rick Scott.
Photo: Mark Wilson/Getty Images
Appearing on CNN's State of the Union Sunday morning, embattled Broward County Sheriff Scott Israel said that he had provided "amazing leadership" to his department, even though it failed to adequately follow up on red flags about Nikolas Cruz, who killed 17 people at Marjory Stoneman Douglas High School on February 14.
Later on Sunday, the Florida Speaker of the House, along with almost every other Republican House member, released a statement asking Governor Rick Scott to suspend Israel. They accused the sheriff of, among other things, failing "to maintain a culture of alertness, vigilance, and thoroughness amongst his deputies."
Jake Tapper asked about the many calls made to the sheriff's office expressing concern about Cruz, who had been described as a potential school shooter, in the months before the massacre. Israel said that 16 of the 18 calls were handled correctly, but that two may not have been. Two deputies were placed on restricted duty this week for possibly mishandling tips about Cruz.
"Are you really not taking any responsibility for the multiple red flags that were brought to the attention of the Broward Sheriff's Office about this shooter before the incident?" Tapper asked.
"Jake, I can only take responsibility for what I knew about," Israel responded. "I exercised my due diligence. I've given amazing leadership to this agency."
Tapper responded incredulously.
Broward County officials had actually said, in a strongly worded statement released Saturday night, that they had responded to 23 calls involving Cruz and his family since 2008. But BuzzFeed News obtained records that showed the actual number was at least 45.
Israel has been facing criticism for days over the missed warning signs and the fact thatthe sheriff's deputy who was at the high school when the shooting began took cover instead of entering the building. Israel fired that deputy, Scott Peterson, and said he was "devastated" by his actions.
The sheriff has denied reports that there was more than one officer at the school at the time of the shooting. On Saturday, he condemned a state legislator's call to remove him as "disingenuous political grandstanding."