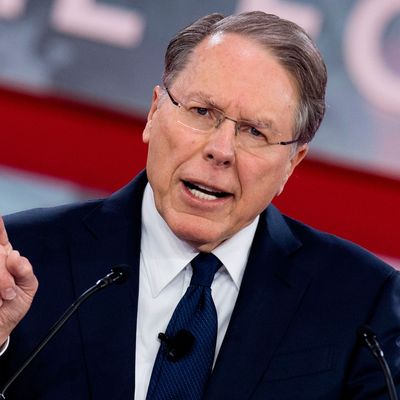 Business boycotts don't kill gun sales, people kill gun sales.
Photo: Jim Watson/AFP/Getty Images
Friday was a bad day for people who enjoy both AR-15s and a reliable sedan with that new-car smell.
Several companies, including multiple rental-car concerns, discontinued partnerships and programs they had with the National Rifle Association as the hashtag "boycottNRA" stood atop Twitter all day, in the wake of last week's mass shooting at a Florida high school.
Since that massacre, student survivors have led an unusually aggressive push to shame lawmakers into changing overly permissive gun laws. Late this week, anti-NRA sentiment shifted from state capitals to boardrooms.
As social media lit up with the outrage that is its native language, First National Bank of Omaha, which had issued an NRA-linked Visa card, bowed to pressure on Thursday afternoon.
On Friday, more businesses followed suit, including Hertz and Enterprise Rent-A-Car.
Other companies that cut off NRA programs included software company Symantec and insurance company Chubb Limited, which announced that it would stop underwriting an NRA-branded insurance policy.
And corporations that used to do business with the organization, like hotel chains Best Western and Wyndham, had to reassure customers that they had already severed ties.
On Saturday, the exodus continued. Delta and United announced that they would stop offering discounted fares to NRA members to attend the group's annual meetings.
Despite growing more and more extreme in its anti-liberal, anti-media rhetoric, the NRA has for the most part escaped a business backlash, even amid a steady stream of mass shootings over the years. But with major gun-reform legislation a pipe dream at the federal level (for now), the business world may have more leverage to change the way guns are bought and sold than anyone else.
As Andrew Ross Sorkin laid out in a New York Times column this week, financial institutions in particular have a great amount of leverage over the gun industry. If they wanted to, credit-card companies, banks, and card processors could make it difficult for gun sellers to unload the high-powered rifles that are the weapon of choice for mass shootings — or any guns at all.
Companies like Hertz don't have that much power, of course, and this week's measures are aimed only at the NRA, which, with its increasingly unhinged platform, is doing much to isolate itself from the mainstream. Still, it's another sign that American public opinion on guns may be shifting, and that the usual corporate impulse to avoid riling up firearm enthusiasts may be fading.