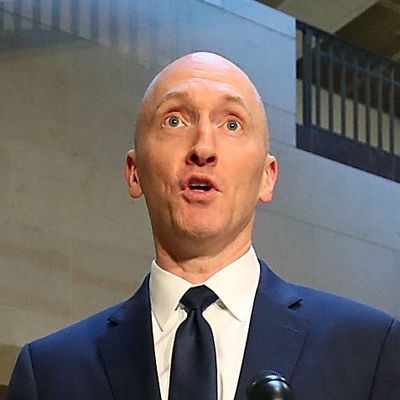 The real slim shady.
Photo: Mark Wilson/Getty Images
Carter Page, the Russia-linked former Trump campaign adviser at the center of a controversial memo which was declassified on Friday, apparently bragged in a 2013 letter that he was "an informal advisor" to the Kremlin, according to Time. The letter was sent to an academic press amid a dispute over a manuscript the former energy-industry executive had submitted for publication, per the report.
"Over the past half year, I have had the privilege to serve as an informal advisor to the staff of the Kremlin in preparation for their Presidency of the G-20 Summit next month, where energy issues will be a prominent point on the agenda," Page boasted in the August 2013 letter. He now tells Time that he "sat in on and contributed to a few roundtable discussions with people from around the world" at the time, including a representative from Russia. He also cited a briefing document written by a Russian trade diplomat to back up his claim, and said similar subsequent meetings that year were "really plain-vanilla stuff."
Page was put under surveillance in 2016 as part of the FBI investigation into Russia's meddling in that year's presidential election. In the GOP-written memo released on Friday, one of the several underwhelming accusations lodged at federal law enforcement officials was that they abused their power in obtaining a warrant to begin that surveillance. Indeed, some conservatives who had tried to distance themselves from Page in light of the Russia investigation have now come to his defense, arguing that his civil rights were violated. In fact, Page is more likely just a useful idiot to allies of President Trump looking for ways to discredit the Russia investigation.
The Republican memo, which has been heavily promoted by House Intelligence Committee chairman Devin Nunes, claims that the Page FISA warrant application was improper because it cited the infamous Steele dossier without disclosing the political biases of those who created and (partially) paid for it. The dossier alleged that Page had secretly met with a senior Kremlin official in 2016, in part to discuss ways to help the Trump campaign and damage Hillary Clinton. (Page has denied this.)
The Nunes memo does not actually list all the evidence that was used to obtain the warrant to surveil Page, so there's no way of confirming the Steele dossier's importance in the process. It's also not at all clear from the memo reports that the warrant application was actually improper, and memo's bias-disclosure contention is already being disputed by Democrats on the House Intelligence Committee as well as least one law enforcement official who has seen the original FISA warrant application. (And that's all before considering the fact that law enforcement sources regularly have a bias against the target of an investigation.)
The FISA warrant was also not only approved by a judge the first time, but an additional three times at 90-day intervals, meaning law enforcement officials were able to show probable cause for the better part of a year that Page was acting as an agent of a foreign power. And he was already on the FBI's radar to begin with, since he had been questioned over his relationship with a Russian operative in 2013. Democratic members of the House Intelligence Committee reportedly insist that former deputy FBI director Andrew McCabe, when he testified last year before the House Intelligence Committee, said that 2013 investigation was one of the reasons, in addition to the Steele dossier, that the FBI became suspicious of Page. Now the "informal adviser" claim has surfaced as well, though it's not clear if agents were already aware of it.
Congressman Nunes and others are claiming Page was unfairly targeted. That's still possible, but no news that's emerged in the last week has made Page look any less worthy of surveillance.