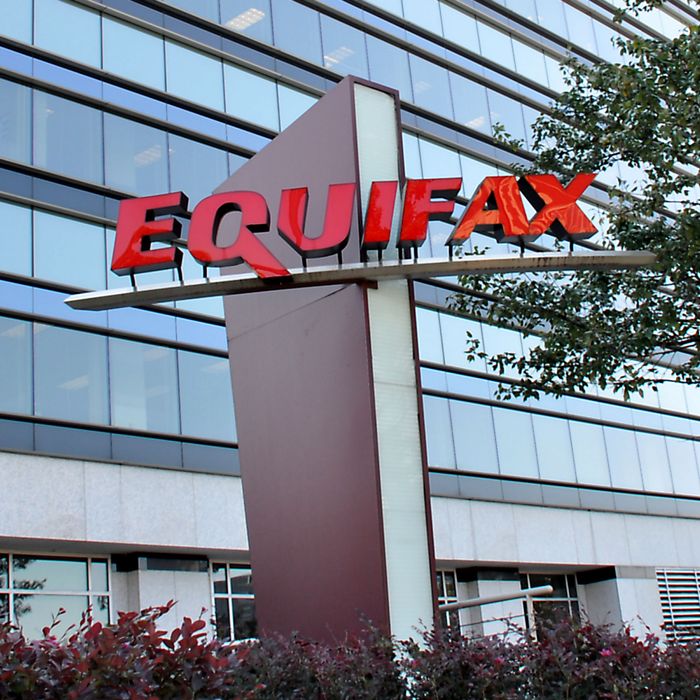 Photo: Smith Collection/Gado/Getty Images
Back in September, Equifax reported that 143 million of its customers could have been implicated in a major breach of the credit-reporting firm's data. This was bad. Really bad. Social Security numbers, birthdays, addresses, and credit-card-information-level bad. The kind of bad where you feel inclined to call up your not-so-tech-savvy relatives and walk them through the necessary steps to freeze their credit as a protective measure.
In addition to Equifax trying to become more secure and keep its customers — the firm's Argentine arm was discovered to be using "admin" as both the username and password for an employee-log-in portal a week after the breach news, which wasn't particularly confidence inspiring — the company faced a Senate hearing in October. (With a special visit from somebody dressed as the Monopoly dude sitting directly behind former Equifax CEO Richard Smith.) The company was simultaneously undergoing a formal probe by the Consumer Financial Protection Bureau ordered by former CFPB director Richard Cordray. Today, that probe has been put on hold, according to a new report from Reuters.
From Reuters:
Cordray resigned in November and was replaced by [Mick] Mulvaney, President Donald Trump's budget chief. The CFPB effort against Equifax has sputtered since then, said several government and industry sources, raising questions about how Mulvaney will police a data-warehousing industry that has enormous sway over how much consumers pay to borrow money.
The CFPB had been planning tests to analyze "how Equifax protects data." These are also no more. A Federal Trade Commission investigation of Equifax is ongoing, though no word on what, if any, penalties could be levied against the firm.