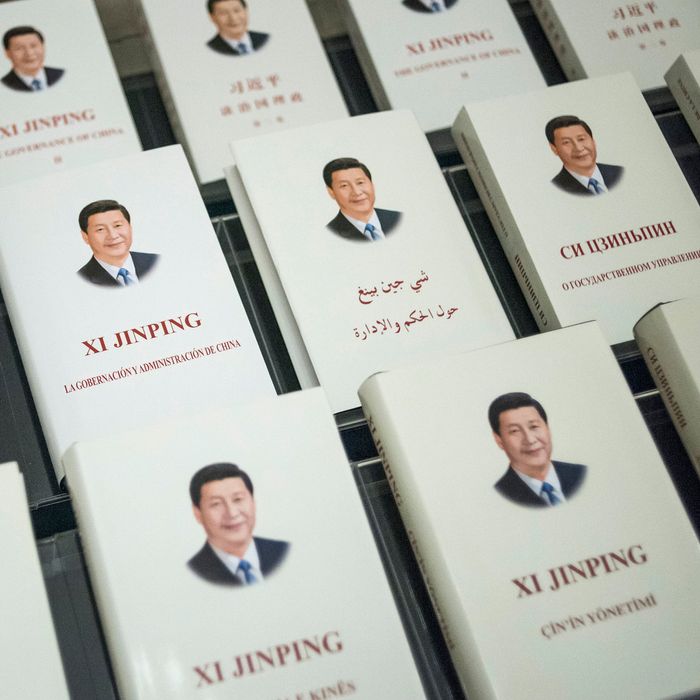 Chinese president Xi Jinping's book, translated into foreign languages, is on display during the opening ceremony of a high-level meeting held by the Communist Party of China in December.
Photo: Fred Dufour/AFP/Getty Images
China is close to eliminating presidential term limits, meaning current president Xi Jinping would be able to stay in power indefinitely. The proposed change to the country's constitution, which was announced on Sunday by the Central Committee of China's Communist Party, would appear to signal that President Xi not only wants to stay in power, but has, unlike his predecessors, accumulated enough power to be able to change the rules in order to keep it. "Papa Xi" as he is referred to in official songs, was already the most powerful leader of the country since Mao Zedong, and by consolidating his power, he has developed a reputation of a strongman in the mold of Russian president Vladimir Putin.
Ending term limits would represent the biggest political change in the country in decades. Under current law, presidents are only allowed to serve two five-year terms, meaning the 64-year-old Xi would have to leave office at the end of his second term in 2023. The term limits were put in place in the 1990s to aid in smoother and more predictable transitions of power in the country.
The new draft amendments to China's Constitution, which include abolishing the term limits as well adding Xi's signature political treatise to the constitution's preamble, were apparently approved by the Communist Party a month ago. They will now almost certainly be passed into law by the National People's Congress in March, as China's legislature always goes along with the proposals of party officials.