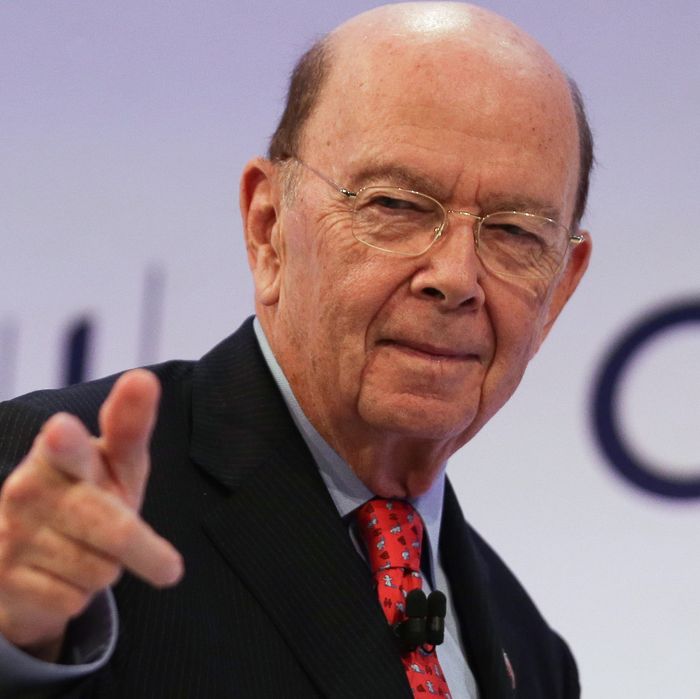 Commerce Secretary Wilbur Ross is recommending new tariffs that many of his Cabinet colleagues oppose.
Photo: Daniel Leal-Olivas/AFP/Getty Images
It's not a big surprise, given Commerce Secretary Wilbur Ross's well-known protectionist sentiments, and the very nature of the rarely used legal authority Trump asked him to explore, which more or less presumes ill will from countries that are expanding exports to the U.S. But it's still big breaking news that Ross is recommending that the president impose very large tariffs (and possibly other trade-restricting sanctions) on countries from which we import steel and aluminum products. Axios has the scoop:
The Department of Commerce will recommend tariffs on steel and aluminum that, if applied, would be the first shots in a global trade war, according to two sources briefed on the report.




Aluminum: 7.7% tariff on all aluminum exports from all countries. 23.5% on all products from China, Russia, Venezuela and Vietnam. A quota on imports from all countries to a maximum of 86.7% of their 2017 exports to the U.S.




Steel: Global tariff of 24% on all imports. Tariff of 53% (at least) on steel imports from Brazil, China, Costa Rica, Egypt, India, Malaysia, Korea, Russia, South Africa, Thailand, Turkey and Vietnam. A quota of 63% of 2017 exports for the countries listed in the prior sentence. All other countries can export at 100% of 2017 levels, but above that face tariffs.
The authority for this proposed action is Section 232 of the Trade Expansion Act of 1962, which was intended to address "dumping" of products through pricing designed to penetrate U.S. markets. Its use, ever, is controversial, particularly in orthodox conservative economic circles where unencumbered trade is assumed to be positive in all but the most exceptional circumstances. And the kind of sanctions Ross is recommending will cause major conniption fits in Republican and business circles, in part because of their potential effect on companies and products utilizing imported steel and aluminum, but mostly because of the potential for retaliation by affected countries, especially China. Axios quotes one "trade expert" predicting that if Trump accepts these recommendations, it will represent a "declaration of war against the world on aluminum and steel," and another who suggests that it could wreck the World Trade Organization, the chief arbiter of trade rules.
Trump has until April 11 to accept or reject Ross's recommendations, and you can expect the mother of all internal lobbying fights over the issue between now and then.
Gary Cohn, Steven Mnuchin, Rex Tillerson and James Mattis have all been fighting against these tariffs on steel and aluminum — arguing they would harm the global economy and damage relationships with allies.
One political factor to keep in mind is a rapidly approaching special congressional election in southwest Pennsylvania, a historic steel-producing area where protectionist sentiments have been important to local politics not just for decades but for close to a couple of centuries. The GOP candidate in this heavily Republican district, Rick Saccone, is struggling a bit. Nothing would be more natural to Trump than to announce big tariffs prior to the March 13 balloting in this race. Indeed, a scheduled presidential appearance with Saccone next week might have offered the perfect opportunity, until the trip was postponed indefinitely as part of Trump's reaction to the massacre in Parkland.
This could give the opponents of high aluminum and steel tariffs a bit more time to lobby against their imposition. But make no mistake, trade policy is a subject on which Donald Trump has perpetually differed from most Republicans, and he's reportedly been itching throughout his presidency for an opportunity to throw a scare into China. Whether the proposed tariffs would most frighten Beijing, or instead the already jittery global markets, is a question to which we may soon learn the answer.