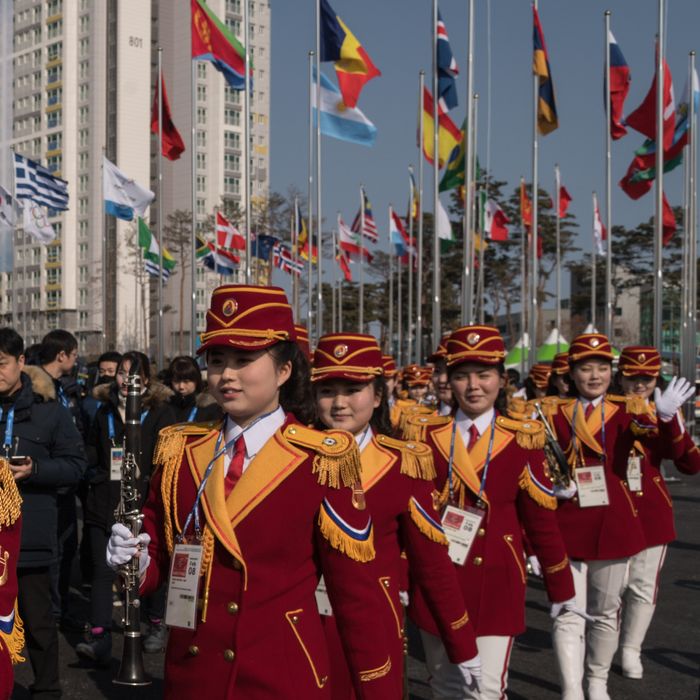 The North Korean cheerleading squad leaves a welcoming ceremony at the athletes' village of the Pyeongchang Winter Olympics on February 8, 2018.
Photo: ED JONES/AFP/Getty Images
The Winter Olympic Games that kicked off Friday in Pyeongchang, South Korea, represent a historic moment in diplomatic relations between that country and its isolated, Stalinist neighbor to the north. Whether the Games will actually lead to a diplomatic breakthrough, however, is doubtful.
South Korean president Moon Jae-in, an advocate of reconciliation between the two Koreas, has been eager to make the Games in Pyeongchang a "Peace Olympics," and his North Korean counterpart Kim Jong-un expressed interest in making that happen in his New Year's address. Later in January, Moon's government announced that North and South Korean athletes would march together under the Korean Unification Flag in today's opening ceremonies.
On Wednesday, the diplomatic stakes were turned up a notch with the announcement from Pyongyang that the supreme leader's younger sister Kim Yo-jong, head of the country's propaganda operations, would attend the Games, and on Thursday, Moon revealed that he had scheduled a lunch meeting with her on Saturday. Kim Yo-jong's trip to Pyeongchang makes her the first member of the Kim dynasty to travel to the South since the truce that ended the Korean War in 1953.
Two people who will not be meeting with Kim or any other members of the North Korean delegation are Vice-President Mike Pence, who arrived in South Korea on Thursday to meet with Moon and attend the opening ceremony, and First Daughter Ivanka Trump, who will attend the closing ceremonies. Pence had kept the possibility of such meetings open in statements earlier in the week, but White House spokesman Raj Shah told reporters on Thursday that there were "no meetings planned whatsoever."
The North Koreans were quick to make sure everyone knew they didn't want to meet with Pence or Ivanka either. "We have never begged for dialogue with the U.S. nor in the future, too," the KCNA news agency reported, citing a foreign-ministry official. "Explicitly speaking, we have no intention to meet with the U.S. side during the stay in South Korea." They may have an intention to upstage the U.S., however: Some observers believe the decision to send their chief propagandist was intended to create a media spectacle and draw attention away from Pence's appearance.
In opening remarks at his meeting with Moon on Thursday, Pence stressed that the U.S. would not waver from its insistence on the complete denuclearization of North Korea. He has also indicated that the Trump administration would soon announce "the toughest and most aggressive round of economic sanctions on North Korea ever." Given this government's penchant for spectacle, it would not be surprising if that announcement came right in the middle of the Games.
Since the beginning of the year, when the Koreas began exploring the possibility of coming together at the Olympics, Washington and Seoul have been on divergent paths with regard to diplomacy with the North, Moon pursuing rapprochement while President Donald Trump has sent alarming signals about the possibility of the U.S. launching a "bloody nose" strike against North Korea to take out its weapons capabilities without incurring massive retaliation against South Korea or U.S. bases in the Pacific (hopefully).
Trump insists that his bellicose rhetoric is the only reason North Korea is talking to anyone at all — an interpretation with which Moon obsequiously agreed last month — but some experts view the Kim regime's pursuit of a separate diplomatic track with Seoul with suspicion, seeing it as an attempt to drive a wedge between the U.S. and South Korea. This wedge is that much easier to drive given Trump's obsession with either revising or tearing up our free-trade agreement with South Korea, even though our trade deficit is declining. In any case, there's no reason to expect the American stance on North Korea to change, no matter what happens in Pyeongchang.
What's missing from Moon's friendlier approach, however, is a sense of what exactly he is hoping to get out of it. Critics say that by welcoming the North Koreans to the Olympics, he may be handing Kim a public relations and propaganda victory for free. Getting the delegation and their equipment across the border has been an exercise in dancing around U.N. sanctions, to the consternation of South Korean conservatives who suspect that weakening those sanctions is precisely Kim's Olympic game. Moon's popularity has taken a hit from his decision to reach out to the North at a time when support for reunification is at historic lows, particularly among young South Koreans who don't relish the thought of having to share their hard-earned wealth with their starving peasant cousins.
Dialogue, reconciliation, and peace are more popular — the two countries are technically still at war, as the Korean War ended in a truce, not a treaty — but Moon is under pressure from his conservative opposition to demonstrate that his feel-goodery has a point. If he comes out of the Games with nothing to show for it on the North Korean front, he could easily pay a further political price. The South Korean divide over Moon's overture is illustrated in these two snap editorials on Kim Yo-jong's visit, highlighted by the Associated Press's Seoul bureau chief Foster Klug:
The liberal Hankyoreh newspaper played up her direct influence on Kim Jong Un, and interpreted the trip as an attempt by North Korea to reset its international relations and improve ties with both Seoul and Washington.




Oh no, said the conservative Munhwa Ilbo: The visit is a cynical attempt to weaken international sanctions over the North's weapons programs and water down the U.S.-South Korean alliance.
As these contrasting takes suggest, how one judges the wisdom of Moon's actions depends on to what degree one is willing to give North Korea the benefit of the doubt. For the U.S., that degree is somewhere around negative 90, so Pence's glowering presence in Pyeongchang probably won't do much to help Moon accomplish whatever it is he's trying to accomplish. If his gesture of resolve and support for our ally ends up undermining the Games' magnanimous and pro-peace message, Pence might "hijack the hijacker" and make things worse, as CNN's national-security analyst John Kirby put it in an op-ed on Tuesday.
On Moon's side of the street, however, it's unclear just what his goals are here. North Korea appears unlikely to give him much in return for his benevolent gesture; the military parade Kim held in Pyongyang on the eve of the Games should put any doubts about that to rest. If Pence comes off looking like an enemy of diplomacy, that's surely what Kim is hoping for if he aims to sideline the Americans and pursue some kind of peace deal with Moon, Korean to Korean.
Or perhaps the South Korean conservatives are right: Kim has no intention of making peace at all, but wants to look like he's doing so in order to ease the pressure of sanctions and diplomatic isolation. In that case, Moon is a sucker and the political price he will pay for it is well deserved.
The upshot here is that we shouldn't expect any amazing breakthrough to come out of these Olympics. If the U.S. pushes too hard against Moon's welcoming gesture and comes off as the bad guy, that may just widen the gap between Washington and Seoul, making it even harder to coordinate a unified strategy in the future. If sports diplomacy does prove successful at easing tensions between the Koreas, whatever that might look like, that's not part of the Trump administration's playbook, either.
Thanks in part to a lack of coordination between our government and that of our ally, in part to Moon's hazy objectives, and in part to Trump's saber-rattling, the "Peace Olympics" could end up as a missed opportunity.