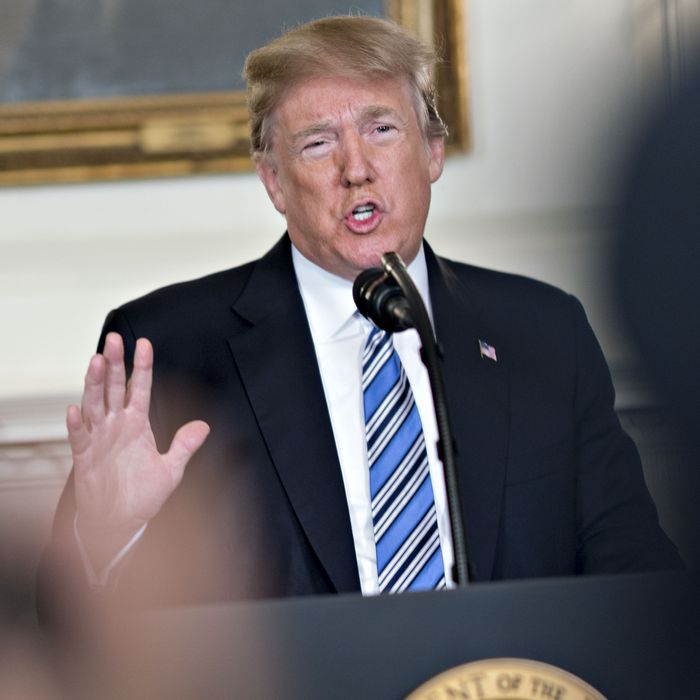 Trump delivers a statement on the Parkland school shooting on February 15, 2018.
Photo: Andrew Harrer/Bloomberg via Getty Images
Last spring President Trump addressed National Rifle Association members at their annual meeting, proclaiming, "The eight-year assault on your Second Amendment freedoms has come to a crashing end."
Eighteen years earlier, in his book The America We Deserve, Trump wrote: "I generally oppose gun control, but I support the ban on assault weapons and I also support a slightly longer waiting period to purchase a gun." As recently as 2012, he backed President Obama as he called for stronger gun laws following the Sandy Hook massacre.
Trump's drastic shift from backing moderate gun-control measures to being the NRA's "true friend and champion," as he put it, left some Democrats hopeful that he could swing back. Days after the Las Vegas shooting in October, a group of nearly 100 House Democrats sent Trump a letter seeking to enlist his help in combatting gun violence. "You have the power to make real change in America and protect our communities from the senseless gun violence like we saw in Las Vegas," they said.
Now in the wake of yet another mass shooting, survivors are using Twitter and cable-news broadcasts to directly beg Trump to take action. The Daily Beast's Matt Lewis argued that he's uniquely positioned to bring about bipartisan change, as "Trump is viscerally trusted by blue-collar gun owners, a fact that grants him the flexibility to make deals that would brand other Republicans a 'sellout.'"
But it's unlikely that Trump will seize this opportunity, even though he and his advisers have tried to suggest that he's interested in seriously addressing the problem of gun violence.
After President Trump met with survivors of the Parkland, Florida, shooting at a hospital on Friday evening, his friend Geraldo Rivera reported that he was "deeply affected" by his visit. People who spoke with Trump at his Mar-a-Lago resort over the weekend told the Washington Post that he was surveying club members on whether he should champion new gun-control measures. Trump may also be interested in a Washington Post-ABC News poll released Monday night that shows more than six in ten Americans blame Trump and Congress for failing to do enough to stop mass shootings.
The White House announced over the weekend that Trump will hold a gun violence "listening session" with high-school students on Wednesday, and meet with state and local officials on Thursday. Press Secretary Sarah Huckabee Sanders said that following a discussion with Republican Senator John Cornyn, Trump had agreed to support an existing bill to improve the federal background-check system.
This generated many headlines suggesting that Trump is suddenly in favor of strengthening background checks, and Democratic Senator Chris Murphy, the bill's co-author, called it a sign that the gun debate has already shifted in the last few days.
There are some very preliminary signs that the gun debate may be changing slightly, from David French advocating for gun-violence restraining orders in the National Review to Republican lawmakers in Florida drafting legislation that would limit access to semiautomatic rifles, among other measures to curb gun violence.
Trump's embrace of the Fix NICS Act barely qualifies. The bill doesn't expand the reach of the background-check system or fix any loopholes, it just creates new incentives for states and federal agencies to upload records to the system. Trump hadn't previously voiced any opposition to the modest, NRA-backed measure, and it was expected to get through the House and the Senate — until it was tacked it onto a measure that would make concealed-carry gun permits work across state lines. The combined bill passed in the House in December, but won't make it out of the Senate.
The immediate hurdle in the effort to strengthen federal gun laws is Republican congressional leaders, not Trump's veto. Theoretically, he could push members of his party to change course, but the encouraging signals from the White House in recent days were far outweighed by Trump's appalling remarks about the shooting. On Twitter he seemed to blame the Parkland victims for failing to report the shooter (which they did many times), then suggested the FBI failed to act on a tip because agents were too distracted by the Russia probe.
Rick Wilson, a Florida Republican political consultant who has criticized Trump, told USA Today that he suspects Trump's erratic stance was the result of him "reacting to the fact that he had a lot of folks at Mar-a-Lago reacting to" the shooting.
"I'd be surprised if there was actual action," he said, "but the NRA and its allies should realize that Trump has no fixed ideology, and reacts to emotion and other impulses."
We just watched that particular Trump trait raise hopes for a bipartisan immigration deal, only to repeatedly derail the negotiations — and tackling gun violence would be far more complex.
It's natural to look to the president for leadership when horrific mass shootings keep occurring across the country, but Trump has offered little reason to think he will rise to the occasion. The passionate speech from 18-year-old Parkland survivor Emma Gonzalez probably contained the best advice to gun-control advocates on how to approach the president: "The best thing for us to do is ignore him and to continue fighting our fight."