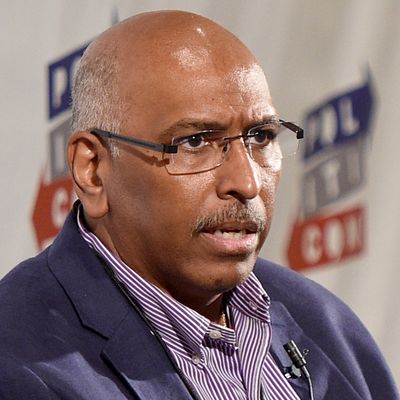 Former RNC director Michael Steele.
Photo: Joshua Blanchard/Getty Images for Politicon
CPAC, or the Conservative Political Action Conference, is where the most outlandish elements of the Republican Party — now known as the mainstream — congregate for four days every winter. (This year, fired-up crowds lustily booed such villains as Mexican immigrants and immigration naturalization ceremonies.)
But even for this crowd, Friday night was extreme.
At a dinner honoring Republican saint Ronald Reagan, CPAC communications director Ian Walters said that "we elected Mike Steele as chairman because he was a black guy, that was the wrong thing to do."
The Observer reported that guests at the dinner gasped in shock.
Walters was referring to former Republican National Committee Chairman Michael Steele, who led the organization from 2009 to 2011, and was in the back of the room when Walters made his remark.
Steele lost his bid for a second term to Reince Priebus, and since 2011 has been a mainstay on cable news. He has often been harshly critical of President Trump.
The remark was unusual in its bluntness, but it does pretty well reflect the Republican Party's trajectory from gesturing toward minority inclusion in the early part of this decade to full-on embracing its current status as a party for white people.
Still, Steele was understandably not pleased.
"If he feels that way I'd like him to come say that to my face," he said, according to the Observer. "And then I'd like him to look at my record and see what I did. I can't believe an official of CPAC would go onstage in front of an audience and say something like that. I've been a strong supporter of CPAC for many years and I thought they raised them better than that here."
Nope, they didn't.