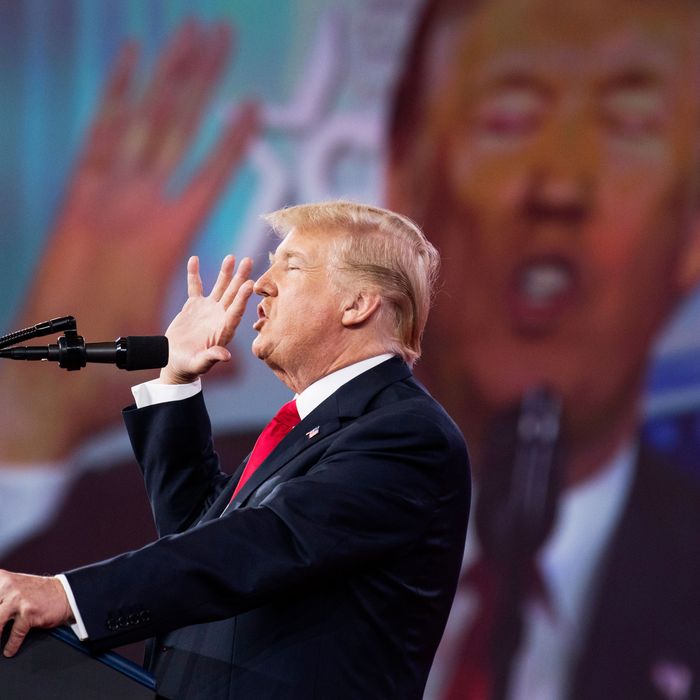 President Donald Trump addresses the Conservative Political Action Conference at the Gaylord National Resort in Oxon Hill, Maryland, on February 23, 2018.
Photo: Tom Williams/CQ-Roll Call,Inc.
In an unscripted but very revealing juncture of the long and winding road that was the president's speech to CPAC today, he decided to ask the audience a question: Did they care more about tax cuts, or the Second Amendment?
That's right: Trump's adoring audience made it clear that it thought that protecting its idea of gun rights was a lot more important than the "massive" tax cuts the GOP hustled through Congress late last year.
It's unclear whether that sentiment is one held so strongly that it overcomes doubts raised by recent gun violence — or if instead it is a product of fears that adverse public opinion may finally force action on guns despite the objection of Second Amendment absolutists. Indeed, many in the audience may have been essentially lobbying Trump to stand firm despite his own inclination to take a few steps toward tightening background checks and raising the age at which you can buy an assault weapon.
In any event, the incident was a reminder that for all the near-universal support found on the right for upper-end tax cuts, deregulation, and other agenda items advanced by Republican donors, it's the culture war that matters most to conservative ideologues. It's probably one data point that nobody needs to explain to Donald J. Trump.