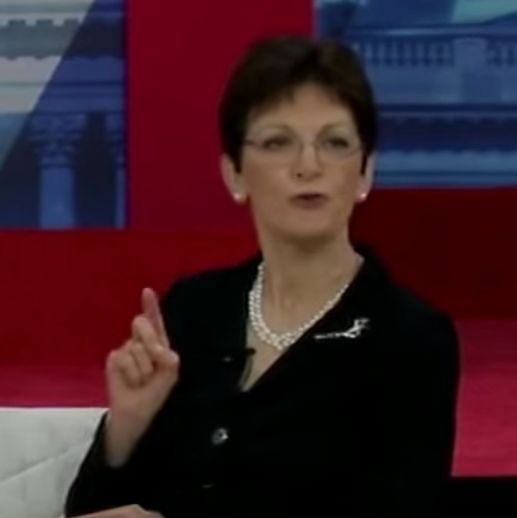 Mona Charen, right, speaking at CPAC on Saturday.
Photo: Screencap/CNN
Writer Mona Charen provided a rare bit of criticism for President Trump at the annual CPAC conference on Saturday, and reportedly needed a security escort to leave after being jeered over her comments. The National Review columnist was one of four women appearing on the panel, "#UsToo: Left Out by the Left," and took the opportunity to criticize Republicans for standing by "sexual harassers and abusers" within the party, making an unmistakable reference to President Trump:
I'm disappointed in people on our side for being hypocrites about about sexual harassers and abusers of women who are in our party, who are sitting in the White House, who brag about their extra-marital affairs, who brag about mistreating women. And because he happens to have an "R" after his name, we look the other way — we don't complain. This is a party that was ready to endorse Roy Moore for the Senate in the state of Alabama even though he was a credibly accused child molester. You cannot claim that you stand for women and put up with that.
Boos and heckles from the crowd rose at the end of Charen's comment, with one audience member shouting that what she was saying was "not true."
It's not clear if the audience was reacting to Charen's comment about Roy Moore, or if, perhaps, it was just a delayed reaction to her comments about Trump. After all, it's unlikely that audience members expected to hear any criticism of Trump at the four-day event; with all the pro-Trump fervor at this year's CPAC, it might as well have been named Trumpcon. (The nationally unpopular president even received a 93 percent approval rating from CPAC attendees in a straw poll on Saturday.)
In addition to her comments about Trump and Moore, Charen also lambasted CPAC's organizers for inviting French politician Marion Le Pen to the conference this year. That remark wasn't received very well either, as Le Pen's praise of Trump had gone over pretty well with the crowd on Thursday.
According to Politico reporter Tim Alberta, after the panel, Charen had to be escorted out of the conference hall by security guards for her protection, though she later said she didn't think that was necessary. Alberta described the weird scene in his write-up of the event for Politico Magazine on Sunday:
Waiting for Charen afterward in a hallway inside the Gaylord National Resort, I was surprised to see her surrounded by three security officers. She was surprised, too. Charen told me the detail had suddenly appeared backstage, "seemingly nervous," having been assigned to protect her on the way out. As we talked, and the detail marched Charen briskly toward the front doors, a few people tried to approach her but nobody got close. "They were acting as if I were in real danger," she texted me afterward, "which I didn't feel at all."




Matt Schlapp, chairman of the American Conservative Union and the chief organizer of CPAC, said he didn't see Charen's panel and wasn't sure who requested the security guards.
Charen also wrote about her CPAC experience in a New York Times op-ed on Sunday, pointing out that:
What happened to me at CPAC is the perfect illustration of the collective experience of a whole swath of conservatives since Donald Trump became the Republican nominee. We built and organized this party — but now we're made to feel like interlopers.
She further explained how "the past two years have felt like a Twilight Zone episode" for traditional conservatives.
"Politicians, activists and intellectuals have succumbed with numbing regularity, betraying every principle they once claimed to uphold," she elaborated. Charen also said she was almost happy she got booed:
There is nothing more freeing than telling the truth. And it must be done, again and again, by those of us who refuse to be absorbed into this brainless, sinister, clownish thing called Trumpism, by those of us who refuse to overlook the fools, frauds and fascists attempting to glide along in his slipstream into respectability.




I spoke to a hostile audience for the sake of every person who has watched this spectacle of mendacity in disbelief and misery for the past two years. Just hearing the words you know are true can serve as ballast, steadying your mind when so much seems unreal.
This post has been updated to include Tim Alberta's subsequent reporting on Mona Charen's post-panel security escort, as well as parts of Charen's op-ed on the experience.