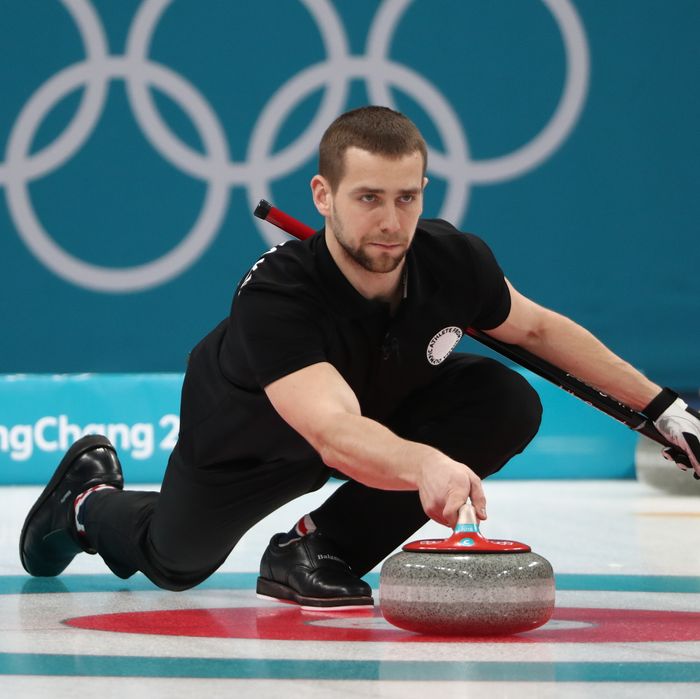 Curler Alexander Krushelnitsky competes on February 13, 2018.
Photo: Valery Sharifulin/Valery Sharifulin/TASS
Russia was initially banned from competing in this year's Winter Olympics in Pyeongchang after investigators found its athletes had participated in an elaborate government-run doping scheme during the Sochi Winter Olympics. However, the International Olympic Committee ultimately relented, inviting 169 Russian athletes to compete at the games as "Olympic Athletes from Russia (OAR)," wearing neutral colors and marching under the Olympic flag in the opening ceremonies.
The Russians were hoping that the IOC would rule this week that they could march in the closing ceremonies under their own flag, and be readmitted to the international sports community. Now that seems highly doubtful. On Monday morning the IOC announced that Russian curler Alexander Krushelnitsky, who won bronze in the mixed doubles curling event with his wife, Anastasia Bryzgalova, tested positive for the banned drug meldonium. After analyzing a second sample, the Court of Arbitration for Sport confirmed that its anti-doping division has opened a case against him, but no hearing date has been set.
In a brief statement to the Russian newswire RIA, Krushelnitsky said, "I know nothing about all this."
Meldonium has been on the World Anti-Doping Agency's list of banned substances since January 2016. The drug is used to treat heart disease and some other chronic conditions in Russia and Eastern Europe, but according to The Wall Street Journal the amount found in Krushelnitsky's urine sample was much higher than what would be used for normal treatment, and it doesn't appear that he applied for a medical exemption to use the drug. Meldonium increases blood flow, which could help with endurance.
The Russian team expressed shock at the finding, and Russian curler Victoria Moiseeva told reporters they believe their teammate is innocent.
"With us it's not faster, higher, stronger; it's about being more accurate. I can't imagine what kind of drugs you could use in curling … so it's very hard to believe," Moiseeva said.
Russian athletes should be very aware that meldonium can show up in drug tests, since 40 Russians have tested positive since it was banned. Tennis champion Maria Sharapova was banned from competition for 15 months after testing positive.
"It's stupid, but Alexander is not stupid, so I don't believe it," Russian women's curling coach Sergei Belanov said.
The Journal reports that authorities are looking into whether Krushelnitsky's sample might have been tampered with. Richard Pound, a Canadian lawyer who ran the World Anti-Doping Agency from 1999 to 2007, said the burden would be on the Russians to prove he was the victim of sabotage.
Krushelnitsky surrendered his accreditation and left the Olympic village after failing the first test. He is the second athlete to be accused of doping in Pyeongchang. Japanese short track speed skater Kei Saito was expelled before he competed after testing positive for the masking agent acetazolamide.
The accusations against Krushelnitsky have raised new questions about whether the IOC was too lenient on the Russians, but they tried to put a positive spin on the development.
"On the one hand it is extremely disappointing when prohibited substances might have been used, but on the other hand it shows the effectiveness of the antidoping system at the Games which protects the rights of all the clean athletes," the IOC said in a statement.