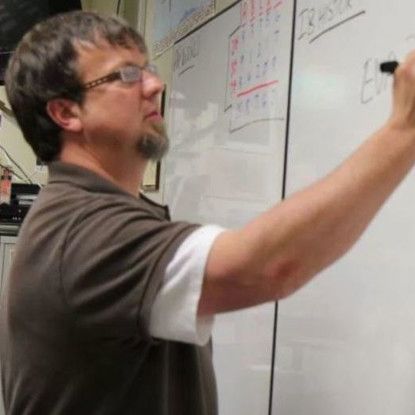 Social-studies teacher Jesse Randall Davidson has been taken into custody.
Photo: Dalton Public Schools
Earlier on Wednesday, an armed teacher, Jesse Randall Davidson, reportedly fired several shots after barricading himself in a classroom at Dalton High School in Georgia. Fortunately, nobody was injured, according to local police, but students were still evacuated from the campus. One student, junior Chondi Chastain, detailed the evacuation in a tweet directed at the NRA. "I dare you to tell me arming teachers will make us safe," Chastain tweeted.
She told the New York Daily News that Davidson, who teaches social studies, was her favorite teacher. "He was really funny and always made jokes about random things. He always talked about how he disagreed with Donald Trump. I didn't expect him to do anything like this, it's completely out of character," she said. She also noted that he'd vocally disagreed with Trump's suggestion that teachers should be armed in the classroom to keep students safe. Chastain, like the survivors of the Stoneman Douglas shooting, also has no tolerance for Twitter trolls. "Anyone that believes this isnt being staged to develop a talking point lives in lala land," tweeted one user whom she quote-tweeted.
If only there had been another teacher with a gun, in the room with the teacher with the gun. That would definitely have deescalated the situation.