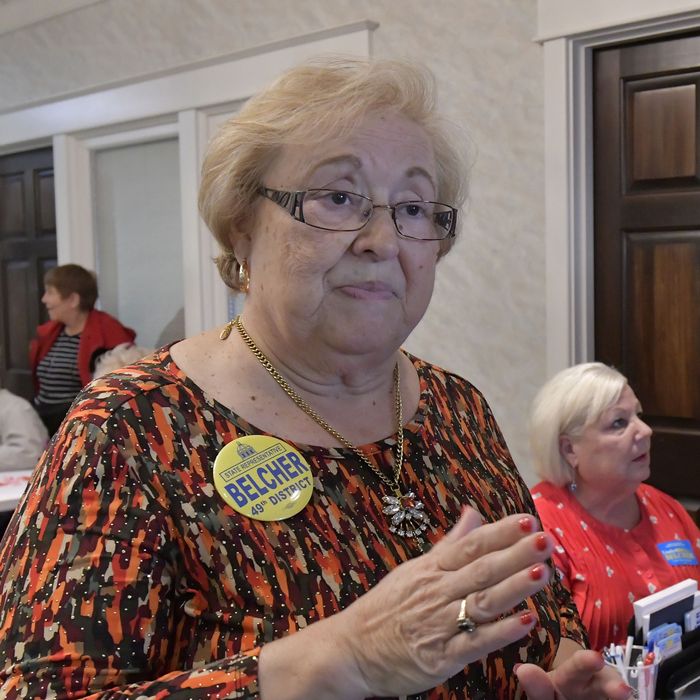 Linda Belcher, winner of Tuesday's special election in Kentucky.
Photo: Timothy D. Easley/AP/REX/Shutterstock
Republicans hoping that predictions of a Democratic midterm wave are overblown got some bad news on Tuesday night. Democrat Linda Belcher won a special election in Kentucky's House District 49, beating Republican Rebecca Johnson by 68 percent to 32 percent. The district went for Trump by a vote of 72–23 in 2016, and Mitt Romney carried it by 66–33 in 2012. Democrats have now flipped 37 legislative seats across the country since Trump's election.
Of course, special elections aren't necessarily indicative of midterm success. Both candidates have a history in the district that likely played into voters' decisions. Belcher entered politics when her husband, Democratic state Representative Larry Belcher, died in a car crash in 2008. She went on to serve in the legislature from 2008 to 2012, and from 2014 to 2016. She lost her last election to Republican Dan Johnson by fewer than 200 votes.
In December Johnson killed himself, two days after he was accused of molesting a 17-year-old girl. A day later, his widow, Rebecca Johnson, who has denied the allegations, said she would run for his seat. The Johnsons had previously generated controversy with their social media posts; Dan had posted images that depicted the Obamas as apes, and Rebecca shared memes that made light of domestic violence and drug use, and endorsed secession.
While Johnson skipped the only debate in the race, citing a campaign conflict, Democrats invested heavily in the seat, buying TV ads and sending out well-known Kentucky Democrats to campaign for Belcher.
"We just won this district by more than 30 percentage points, where Trump won 73 percent of the vote," said Ben Self, chairman of the Kentucky Democratic Party, told the Lexington Herald-Leader. "This just shows that the entire House is up for grabs this fall."
However, Kentucky Republicans argued that the special election was an aberration, as only 15 percent of registered voters cast ballots on Tuesday.
As for Johnson, she blamed her lost on voter fraud, though state officials said they have not received any complaints.
"I've heard from and about people all day long saying they went to vote for me at the correct polling place and were refused the opportunity to vote," she said. "It's like we're in a third-world country."
Johnson has already filed to run in the May GOP primary. If she wins, she would face Belcher again in the general election.