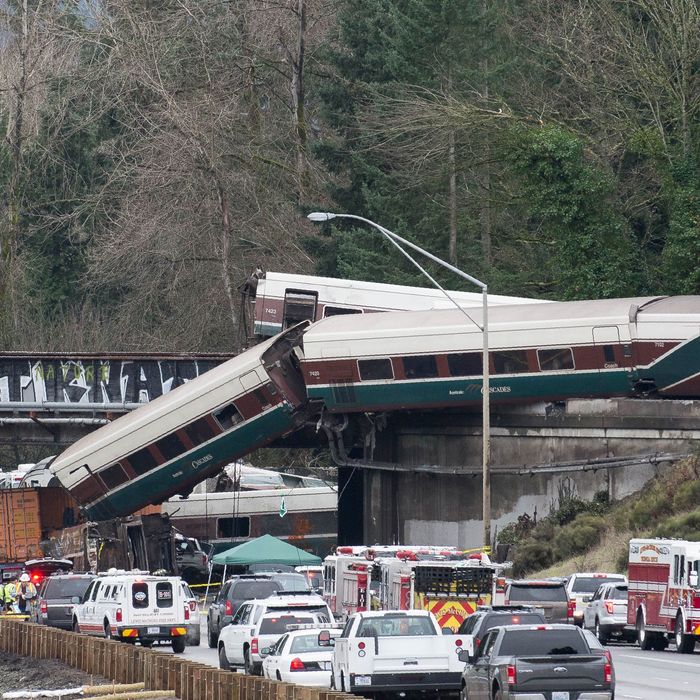 A high-speed train derailed over I-5 on December 18, 2017, near Tacoma, Washington.
Photo: KATHRYN ELSESSER/AFP/Getty Images
In the past two months, there have been four fatal accidents involving Amtrak trains. In December three people died on a train making its first trip on a track between Seattle and Portland. On January 14 a North Carolina couple died when their SUV was hit by a train. On January 31 a train carrying Republican members of Congress to their retreat in West Virginia hit a garbage truck, killing the driver. Then on February 4, two train operators were killed when a passenger train slammed into a parked freight train in South Carolina.
Federal investigators are still looking into these incidents, which all appear to have different causes. But the string of fatalities has brought new attention to the failure of D.C. lawmakers to prioritize train safety, even when the lawmakers themselves are involved in a crash.
Congress hasn't ignored the issue entirely, but so far it's failed to make its own train-safety requirements a reality. In 2008, a California train crash that killed 25 people led to the passage of law requiring that positive train control (PTC) be installed on all tracks that carry passenger trains. PTC uses GPS and other sensors to track trains' movements, and can automatically bring trains to a halt if they're headed for a derailment or collision. The National Transportation Safety Board has been recommending PTC for decades, and according to its analysis, the technology could have prevented 298 deaths and 6,763 injures due to train crashes between 1969 and May 2015. Experts say PTC could have stopped the recent accidents in Washington State and South Carolina, too.
The 2008 law said PTC must be in place on most major rail lines by 2015. However, when the time came several railroads, including Amtrak, said they couldn't make the deadline and threatened to "suspend commuter service and sharply curtail freight shipments." In October 2015, Congress tucked an extension into a larger highway bill, avoiding a debilitating rail shutdown. Now the railroads have until December 31, 2018 — and if lines meet certain milestones they can request a two-year extension beyond that to make their system fully functional. As of September, PTC was installed on only 24 percent of the nation's passenger-route miles and 45 percent of freight-route miles.
There's been plenty of finger-pointing about why PTC isn't in place across the board. Railroads continued spending money on other priorities, and even opened new lines without PTC. For example, the system won't be implemented on the new Seattle-Portland track until next spring.
Some train-safety advocates say railroads didn't plan or spend wisely, then deployed lobbyists to urge Congress to push the deadlines. The New York Times reports that two Republicans behind the extension, Representative Bill Shuster and Senator Roy Blunt, were the top two recipients of campaign contributions from the railroad industry in 2016.
Democratic Senator Richard Blumenthal of Connecticut, who sits on the Senate Committee on Commerce, Science and Transportation, called the delays "scandalously irresponsible."
"They have been directly the result of railroads using their political sway to achieve repeated postponements," he said.
Railroads blame members of Congress and regulators, saying they picked an arbitrary deadline, and told them they had to foot the massive bill themselves, and offered little assistance as they tried to implement a complex system.
Passenger lines often operate on rails owned by freight companies, and for PTC to work correctly different versions of the technology need to communicate instantly.
"It's not something you go to Radio Shack and say, 'Well, I'll take a PTC system.' It's not a plug-and-go system," former NTSB managing director Peter Goelz told Politico in 2015. "They had to create it from scratch."
Congress mostly refused to provide funding for the project, and railroads clashed with the Federal Communications Commission over securing the necessary wireless airwaves.
Joseph Boardman, a former chief executive of Amtrak, recently told the Times that the entire Northeast Corridor could have had PTC years ago if Congress hadn't continually cut the railroad's funding. "It's the same problem that you see everywhere with the infrastructure funding — not enough being available to do the job," he said.
It's highly unlikely that train safety will get a boost from President Trump's new infrastructure plan — or as Politico puts it, his "statement of principles that Congress will have to translate into legislation." The proposal, which the Trump administration is finally rolling out on Monday, doesn't make sense on a practical or political level.
The general idea is that by offering $200 billion in federal funds, the federal government will spur $1.3 trillion in infrastructure investments from states, municipalities, and the private sector. It's unclear where the $200 billion would come from, but incredibly, the White House has suggested cuts to mass transit and Amtrak could help pay for the plan. As the Center on Budget and Policy Priorities noted, this is consistent with Trump's 2018 budget, which proposed "a 49 percent cut to Amtrak, a 49 percent cut to mass transit capital investment grants, and elimination of the TIGER program, which has supported some of the most innovative local infrastructure projects over the last eight years."
Even if states could suddenly come up with that kind of money, it's hard to see why Senate Democrats would hand Trump a victory months before the midterms. Furthermore, what he's suggesting is an unworkable plan, that's likely to reduce money for social programs and mass transit, and divert infrastructure funding to (mostly red) rural areas.
The Trump administration's other railroad-related woes aren't just theoretical. The Federal Railroad Administration, the nation's top railroad-safety agency, hasn't had a permanent leader for more than a year, and last week its top official resigned. Politico reported that deputy administrator Heath Hall, who was appointed last summer, stepped down amid questions from the media about why he was still working as a public-relations consultant in Mississippi.
The vacancy at the top of the Federal Railroad Administration is the result of Trump's clash with Senate Minority Leader Chuck Schumer over another problem with America's railway infrastructure. Trump has signaled that he intends to scrap the Gateway Program, which includes building a new rail tunnel under the Hudson River between New Jersey and New York City. The Obama administration had reached an agreement with the states to share the cost of replacing the deteriorating 108-year-old tunnel that's key to the region's economy, and must shut down for repairs within 20 years. New York and New Jersey senators are blocking Trump's pick to lead the agency, Ron Batory, in an effort to push him into backing the project — sparking accusations from the right that Schumer and company are putting rail passengers' lives at risk.
The issues facing the U.S. rail system existed long before Trump and many current members of Congress took office, and fixing them won't be easy — but we do know the solution. As the Daily Beast notes, PTC has already been successfully implemented in most rail lines in Europe and Japan, and even in poorer countries like Mozambique. Yet most lawmakers in the U.S. only mention the problem in the days after a terrible accident.
The infrastructure plan lawmakers will be debating over the coming weeks and months includes $20 billion for "transformative" projects that "can lift the American spirit." It's not entirely clear what that means, but saving Americans from preventable train deaths and injuries seems like a worthier goal.