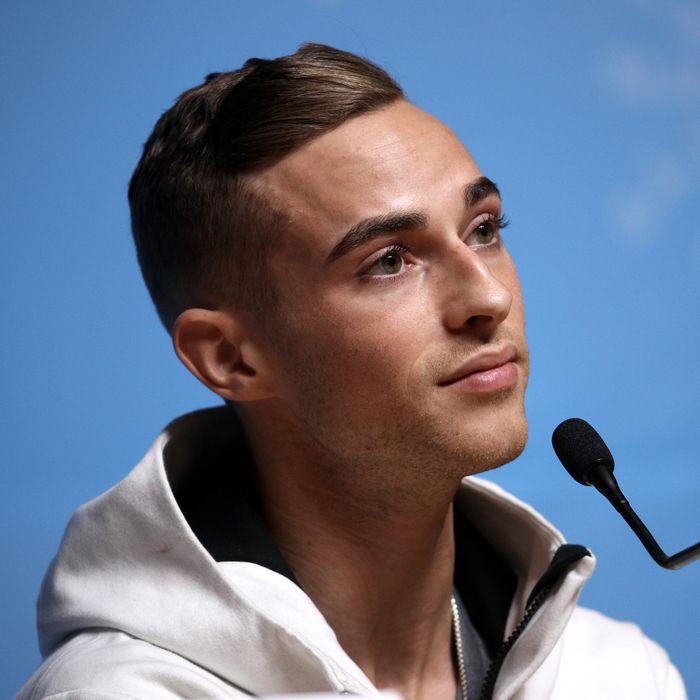 Stay classy, Don Jr.
Photo: Chris Graythen/Getty Images
During a press conference in Pyeongchang, South Korea, on Tuesday, U.S. figure skater Adam Rippon, who just won a bronze medal in the team figure-skating competition, was asked about his feud with Vice-President Mike Pence. Rippon tried to shift the focus back to the Olympians.
"I have no problem about what I've said because I stand by it, but I think right now the Olympics are about Olympic competition and the athletes involved," Rippon said. "It's brought a lot of attention and questions to my other teammates and I don't want to distract from their Olympic experience and I don't want my Olympic experience to be about Mike Pence."
This caught the attention of Donald Trump Jr., who decided that as the president's son, it's his duty to defend the vice-president from any criticism by members of Team USA.
Rippon — who made history with freestyle skier Gus Kenworthy as the first two openly gay athletes to represent the U.S. in the Winter Olympics — did start his spat with Pence. Last month, when asked what he thought of Pence heading the U.S. delegation to the Pyeongchang Games, Rippon said he'd prefer not to meet him during the traditional meet-and-greet.
"If it were before my event, I would absolutely not go out of my way to meet somebody who I felt has gone out of their way to not only show that they aren't a friend of a gay person but that they think that they're sick," he told USA Today, referencing accusations that Pence supported gay conversion therapy. He added that for Pence to support some of President Trump's statements and "say he's a devout Christian man is completely contradictory."
Following reports that Rippon declined an invitation from Pence to have a discussion prior to the competition (which the vice-president's office denied), Pence directed a message to the skater on Twitter.
Perhaps Trump Jr. missed these tweets, and Pence's call to cheer on all members of Team USA. Or maybe he was just following the family motto: When they go low, we go even lower … and sprinkle in some "alternative facts."