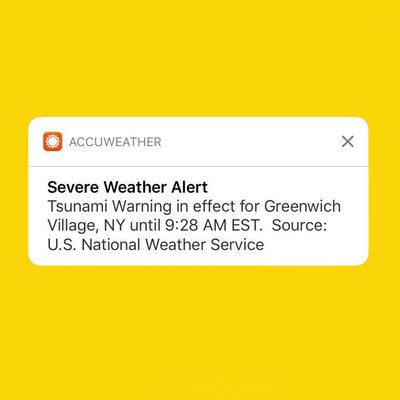 Giant, deadly waves are not headed for the coast of Maine. Or South Carolina. Or Massachusetts. Or New York. But if you happen to live in any of those places and checked your phone earlier, you might have been concerned; an false push notification was sent out to East Coast residents on Tuesday morning.
Following the mistaken alert, National Weather Service Twitter accounts from up and down the coast began tweeting to let people know that the message was a test and not real. Apparently, according to New York's account, the intended message did have the word test in it, but somehow that was missing when the alert was sent.
"The test message was released by at least one private sector company as an official Tsunami Warning, resulting in widespread reports of tsunami warnings received via phones and other media across the East Coast, Gulf of Mexico, and the Caribbean. We're currently looking into why the test message was communicated as an actual tsunami warning, and will provide more information as soon as we have it," the NWS said in a statement to NBC News. Can't help but wonder if the same person who designed Hawaii's terrible emergency alert system also had a hand in building the one used today.