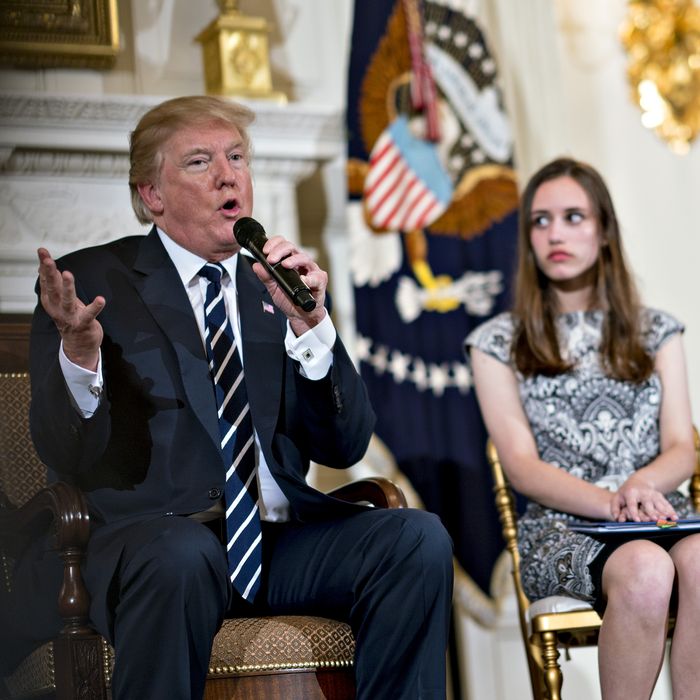 Trump meets with students from Marjory Stoneman Douglas High School on February 21, 2018.
Photo: Andrew Harrer/Bloomberg via Getty Images
Immediately after the school shooting in Parkland, Florida, it seemed President Trump's plan was to lie low for a few days and wait until the tragedy fell out of the news — but the survivors of Marjory Stoneman Douglas High School wouldn't let that happen. As it became apparent over the long Presidents' Day weekend that this shooting wouldn't follow the usual script, Trump changed course. The White House announced that he would back a stalled Senate bill to improve background checks, and hold several gun violence "listening sessions."
Soon Trump was, on a daily basis, musing about policies to combat gun violence, yet offering few clear signs about which measures his administration would push to enact. Many Republicans in Congress don't share Trump's newfound interest in taking action on guns, making it even harder to determine which proposals should be taken seriously. Here's a rundown of every gun violence measure Trump has backed, and whether it has any chance of being enacted.
In his book The America We Deserve, which he released when he was running for president on the Reform ticket in 2000, Trump took a somewhat contradictory stance on guns, writing: "I generally oppose gun control, but I support the ban on assault weapons and I support a slightly longer waiting period to purchase a gun."
In 2015, when he launched his presidential campaign as a Republican, he quickly adopted the rhetoric of the right on gun violence, emphasizing that after mass shootings the focus should be on mental health, not guns. He also embraced an idea put forth by the National Rifle Association following the Newtown massacre: that we need more armed people in schools, and society in general, since "the only thing that stops a bad guy with a gun is a good guy with a gun."
On the campaign trail, Trump repeatedly promised to eliminate gun-free zones around schools and military bases. At a rally in New Hampshire on January 7, 2016, he vowed to abolish them on his first day in office, saying, "You know what a gun-free zone is to a sicko? That's bait."
There is ample evidence that shooters target people and places that they know, but research does not support the idea that they seek out gun-free zones. Nevertheless, Trump has continued to rail against gun-free zones in recent days. "If they go into a school, a gun-free zone is like target practice for these guys," he said in a February 24 interview with Fox News' Jeanine Pirro. "They see that and that's what they want. Gun-free zones are very dangerous. The bad guys love gun-free zones, Jeanine."
Will It Happen? Despite what Trump has suggested, he couldn't repeal gun-free zones with the stroke of a pen. Congress passed a law in the 1990s that made schools gun-free zones (though there are exceptions for armed security guards, and even teachers in some states). Republicans in Congress have made several efforts to repeal the law, and they might try again, though it doesn't appear to be a top priority. Military bases are not entirely gun-free zones either, and Pentagon officials said they haven't received orders to review their policies.
Trump's desire to arm teachers specifically is perhaps the most controversial proposal to emerge from the gun debate in recent days. But Trump has actually been floating the idea since the campaign. Following the October 2015 massacre at a college in Roseburg, Oregon, Trump told Face the Nation that the tragedy could have been averted if someone in the room had a gun.
"I think that if you had the teacher, assuming they knew how to use the weapon, which hopefully they would, you would've been a lot better when this maniac walked into class, starting to shoot people," he said.
Weirdly, months later he attacked Hillary Clinton for claiming he wants "guns brought into the school classroom." A day later he told his friends at Fox News, "I don't want to have guns in classrooms, although, in some cases, teachers should have guns in classrooms, frankly."
Trump repeated this process post-Parkland, saying during his meeting with survivors and parents at the White House, "If you had a teacher who was adept with the firearm, they could end the attack very quickly." He then denied calling for teachers to be armed:
And went on to explain why teachers should be armed:
Later Trump proposed giving teachers that do opt to carry firearms in the classroom a bonus:
Will It Happen? Individual states may ease firearm restrictions in schools, but it's hard to imagine Trump enacting a nationwide program that hands out bonuses to a force of highly trained teachers/armed guards. Most education groups were strongly opposed to the idea, and some argued that it was only floated to distract from serious gun control proposals. White House spokesperson Raj Shah admitted that "the policy hasn't been fleshed out" when asked where the government would find hundreds of millions of dollars to fund such a program. Though, he added, "Do we really think that that's too much to pay for school safety?"
Encouraging People to Report Suspicious Behavior
In one of his first responses to the Parkland massacre, Trump appeared to blame alleged gunman Nikolas Cruz's neighbors and classmates for failing to report him to the authorities.
Trump has made similar remarks after other shootings. Following the 2016 Pulse nightclub massacre in Orlando he said on Face the Nation: "The big thing that we're missing here is that people have to report when they see somebody. This man was pretty much unhinged." Trump then undercut his own point, noting that while people tried to report Omar Mateen, law enforcement failed to stop him.
Similarly, people raised concerns about Cruz multiple times, but FBI agents sometimes didn't follow up. Also, there's no law in Florida that would have kept an angry young man with no criminal record and no contact with the state mental health system from buying a gun.
Five states currently have "red flag laws," which allow law enforcement to seize the firearms of people believed to be a danger to themselves or others. In some states family members who spot concerning signs can seek these temporary restraining orders.
Despite calling for more focus on mental health, Trump reversed a rule that would have added some people struggling with mental illness to the federal background check system, and his proposed budget cuts funding for mental health resources. He has yet to discuss red flag laws specifically, but Bloomberg reported the Trump administration is considering encouraging states to enact such laws, possibly by offering grant money as a reward.
Will It Happen? The idea has gained some bipartisan support in recent weeks, and it's one of the more plausible policies that's been floated.
Congress started looking at banning "bump stocks," which can make a legal semiautomatic weapon function like an illegal automatic weapon, after the device was used in the Las Vegas shooting in October. As Trump looked for new gun measures he could back in the days after Parkland, he directed Attorney General Jeff Sessions to propose regulations to ban bump stocks.
The problem is that during previous reviews, federal agencies concluded that they don't have the authority to regulate the devices. On Monday Trump declared he's ready to act unilaterally, saying, "I'm writing that out myself. I don't care if Congress does it or not. I am writing it out myself" — but he may not have the legal authority to do so.
Will It Happen? Banning bump stocks may be one of the few gun control measures that can make it through Congress. Whether they'll actually do it, even with pressure from Trump, is another question.
Raising the Minimum Age for Buying Assault Rifles
During meetings last week, Trump defied the NRA, saying the age for legal purchase of "all" guns should be raised from 18 to 21. A spokesperson later said he was only talking about semiautomatic weapons.
Will It Happen? Probably not. After the NRA publicly rejected the idea, Trump appeared to change his position. "He's obviously moving back from that," a GOP congressional source told CNN. A few Senate Republicans signaled they might support a Democratic bill to "raise the minimum purchase age for non-military buyers from 18 to 21," but even with aggressive support from Trump it would be a tough sell in the GOP.
Strengthening Background Checks
Five days after the shooting in Florida, the White House announced that Trump supports a background check bill that was created in response to another mass shooting in November. Without getting into specifics, Trump repeatedly voiced support for stronger background checks.
The bill the White House was referring to, the Fix NICS Act, creates new incentives to improve reporting to the federal background check system, but even its proponents say it barely qualifies as a plan to "strengthen" the system. It does nothing to close various loopholes, which allow a significant number of gun sales to proceed without a background check.
Will It Happen? Incredibly, it may not. The bill already passed the House in December, but it was paired with a measure that would make concealed-carry gun permits work across state lines, which won't fly in the Senate. On Monday the Senate's effort to pass the Fix NICS Act on its own stalled, with Republicans raising concerns about how people could appeal their entry into the system, and Democrats worrying that if the bill passes, the GOP will refuse to tackle any other gun violence prevention measures.
The immediate hurdle to passing the measure is Congress, not President Trump, but lawmakers have made it clear that they'll need his support to move on other gun efforts. Senators Pat Toomey and Joe Manchin are looking at reviving their bill to expand background checks to online sales and gun shows, but they're waiting to see where Trump stands.
"We're not going to bring it back unless the president signs on," Manchin said. "I think it's imperative that he has to get onboard with what he feels he's comfortable with."