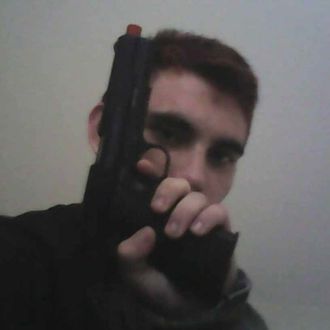 A photo of alleged school shooter Nikolas Cruz.
Photo: Nikolas Cruz via Instagram
In September, vlogger and bail bondsman Ben Bennight reported a YouTube user to both YouTube and the FBI for a frightening comment left on one of Bennight's videos. "Im going to be a professional school shooter," read the comment, posted by a YouTube user under the name Nikolas Cruz. This week, a 19-year-old man by the same name was taken into custody as the suspected attacker in a shooting at Marjory Stoneman Douglas High School in Florida that killed at least 17 people. Bennight told BuzzFeed News that the FBI reached out to him again following the shooting. Bennight said the FBI had previously interviewed him immediately following his report in September, but that he hadn't heard from them since.
From BuzzFeed News:
But around 4:30 p.m. on Wednesday — about 30 minutes after Cruz was taken into custody by police in Broward County — Special Agent Ryan Furr with the FBI's Miami field office called Bennight and left him a voicemail.




"I think we spoke with you in the past about a complaint that you made about someone making a comment on your YouTube channel," the agent said in the message, which Bennight provided to BuzzFeed News. "I just wanted to follow up with you on that and ask you a question with something that's come up, if you wouldn't mind giving me a ring."
FBI agents also visited his home, Bennight said. Both on the phone and in person, he told them that he didn't know who Nikolas Cruz was, beyond the one YouTube comment from his account. The FBI said it would not comment on whether the Nikolas Cruz on YouTube and the Nikolas Cruz in custody were the same person. The Nikolas Cruz account in question has since been suspended.