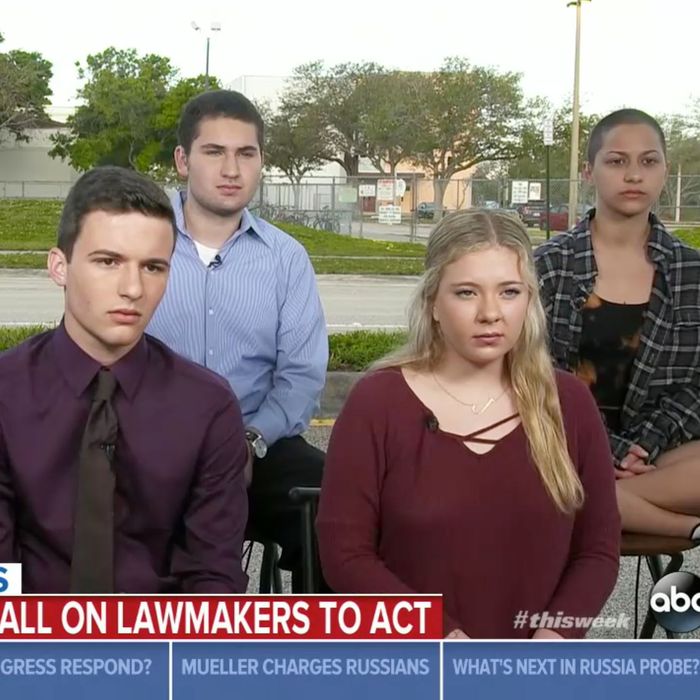 From left to right, Stoneman Douglas students David Hogg, Cameron Kasky, Alex Wind, Jaclyn Corin, and Emma Gonzalez.
Photo: Screencap/ABC News
A group of teenagers who survived Wednesday's school mass shooting in Parkland, Florida, have a message for America about the lack of gun control: "Follow us."
On Sunday morning, student organizers from Marjory Stoneman Douglas High School announced that they will lead a nationwide demonstration on March 24 called the "March for Our Lives," explaining to ABC News and other news organizations that they were now determined to make the Stoneman Douglas shooting the turning point in the U.S. gun control debate. They expect the student-led demonstration to take place in Washington, D.C., and every other city in the country.
Explained 11th-grader Cameron Kasky to ABC, "People keep asking us, what about the Stoneman Douglas shooting is going to be different, because this has happened before and change hasn't come? — This is it."
"We are going to be marching together as students, begging for our lives," Kasky continued, insisting that the message to America's adults was that the young people whose lives are on the line feel neglected, and that, "at this point, you are either with us or against us."
In separate appearance on Fox News Sunday, Kasky also referred to the common bad-faith refrain following mass shootings that it is disrespectful to discuss gun control or politics so soon after a tragedy:
The students say they will be targeting any politicians who receive support from the National Rifle Association, with the aim of creating "a new normal where there's a badge of shame on any politician who's accepting money from the NRA."
Kasky was joined by David Hogg, Alex Wind, Jaclyn Corin, and Emma Gonzalez. All five survived Wednesday's shooting at Stoneman Douglas, in which a 19-year-old gunman, armed with a legally purchased AR-15-style assault rifle, killed 17 people, including 14 students. Gonzalez, a senior, delivered an impassioned, widely shared speech at a gun-control rally in Fort Lauderdale on Saturday. That speech concluded with an excoriation of America's politicians:
The people in the government who were voted into power are lying to us. And us kids seem to be the only ones who notice and our parents to call BS. Companies trying to make caricatures of the teenagers these days, saying that all we are self-involved and trend-obsessed and they hush us into submission when our message doesn't reach the ears of the nation, we are prepared to call BS. Politicians who sit in their gilded House and Senate seats funded by the NRA telling us nothing could have been done to prevent this, we call BS. They say tougher guns laws do not decrease gun violence. We call BS. They say a good guy with a gun stops a bad guy with a gun. We call BS. They say guns are just tools like knives and are as dangerous as cars. We call BS. They say no laws could have prevented the hundreds of senseless tragedies that have occurred. We call BS. That us kids don't know what we're talking about, that we're too young to understand how the government works. We call BS.
She also promised that Stoneman Douglas students "are going to be the kids you read about in textbooks — not because we're going to be another statistic about mass shooting in America, but because … we are going to be the last mass shooting."
Watch the the teens' full Sunday morning appearance on ABC News' This Week below: