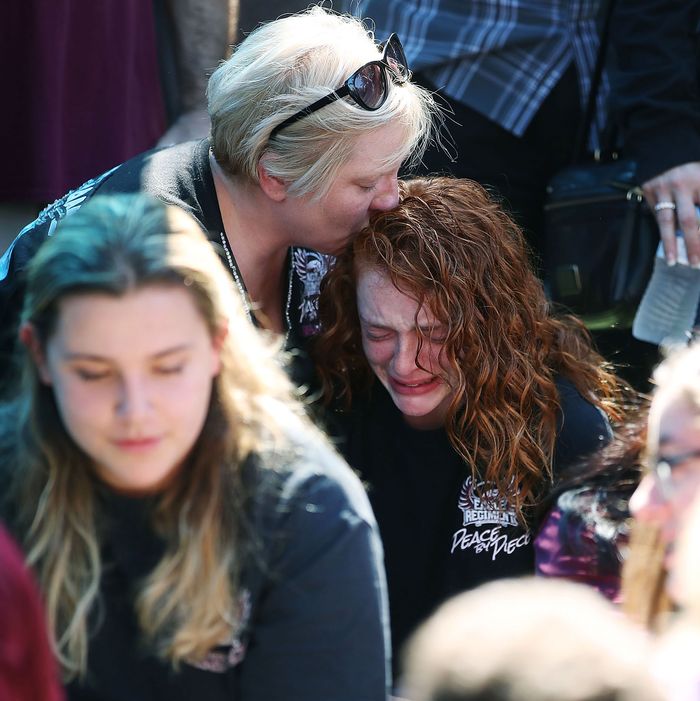 Scenes from the aftermath of the school shooting in Florida, where at least 17 people were killed.
Photo: Mark Wilson/Getty Images
Wednesday's shooting at Marjory Stoneman Douglas High School in Parkland, Florida, is the third-deadliest school shooting on record in the United States. Seventeen students and faculty members were killed in the attack, for which authorities later arrested 19-year-old former Stoneman Douglas student Nikolas Cruz. As is expected now, many students shared videos and photos on Snapchat and Twitter while barricaded in classrooms during the shooting. "My school is being shot up and I am locked inside. I'm fucking scared right now," tweeted one student with several photos that appear to have been taken from beneath a desk.
Thanks to social media, we all now have a ringside seat to tragedy. But we also have a ringside seat to its aftermath. It's not that older media doesn't give viewers access to the survivors of a shooting like the one that took place in Florida — in one recent and much-watched clip, Stoneman Douglas student David Hogg did an interview with CNN in which he looked straight into the camera and asked for "adults" do to something about gun control — it's that social media gives those survivors control over their speech. In the same way that the phones in their pockets allowed them to share horrifying, real-time updates during the shooting, Stoneman Douglas teens are using Twitter to make sure they get the final word about their experiences.
And because it's 2018, that "final word" means sparring with media personalities like right-wing pundit Tomi Lahren — and the president. Trump's first tweet following the news of the shooting was, perhaps as expected, an anemic missive offering "prayers and condolences." Lahren's tweet asked that "the Left" give the victims and their families at least a day to grieve before pushing the "anti-gun agenda." "My goodness. This isn't about a gun it's about another lunatic," Lahren tweeted. Neither of these messages sat well with Stoneman students online.
It's rare to see teenagers given credit for their ability to articulate themselves. Twitter, whatever else you might think about it, gives these kids a platform and the power to at least communicate clearly what they're thinking — and why they're angry. The tweets made me think of Hogg's words: These are kids who are old enough to describe exactly what they are feeling and experiencing, but are powerless to change their situation. They're still just children, as Hogg says. They aren't "adults"; they aren't in positions to make laws and rules. So instead, they tweet in the hopes that someone who is in a position of power will finally listen. They tweet and continue to suffer the consequences of adult inaction.