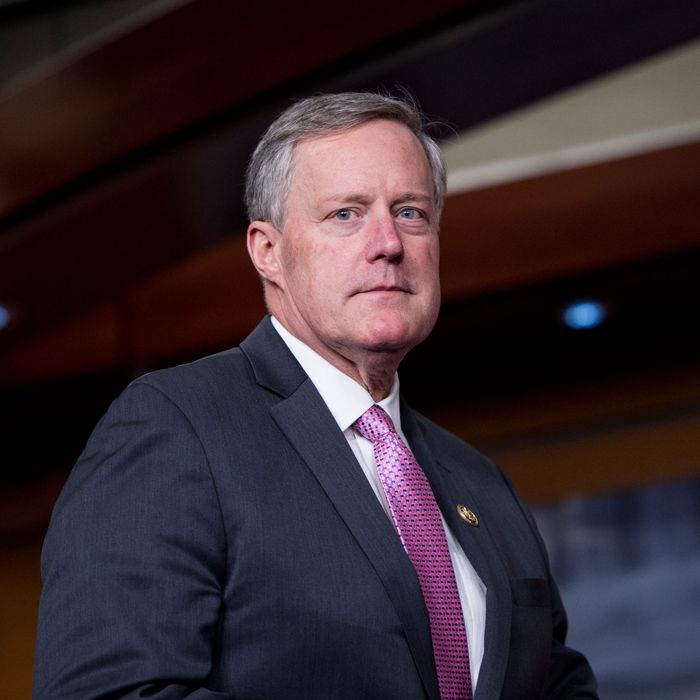 Mark Meadows, who may or may not be bluffing.
Photo: Bill Clark/CQ-Roll Call
Last month we had a 69-hour government shutdown, and despite predictions that this would go poorly for Republicans, the general consensus was that Democrats lost, agreeing to fund the government for a few more weeks in exchange for a promise from Senate Majority Leader Mitch McConnell to hold a vote on some kind of immigration bill.
That new funding deadline, February 8, is now a week away and Congress appears no closer to reaching deals on immigration or spending. There's talk of passing a fifth stopgap funding bill that would push the shutdown fight into March, but Politico reports that Republican leaders have a problem: "Many rank-and-file GOP lawmakers who reluctantly backed the last temporary funding bill, including conservatives and defense hawks, are balking at yet another patch."
As is often the case, House Freedom Caucus chairman Mark Meadows is issuing new demands, suggesting that the 40 or so hard-liners in his caucus won't go along with the bill unless Speaker Paul Ryan pushes an immigration bill from Representative Bob Goodlatte that's so conservative it might not make it out of the House, let alone the Senate.
"It's not up to me to get out of it. It's the speaker's job to get out of it," Meadows said Tuesday.
It's true that pushing the Goodlatte bill to the floor was one of the concessions Ryan agreed to when the Freedom Caucus threatened to block the last continuing resolution. The caucus probably has the ability to force a government shutdown, too, since Minority Leader Nancy Pelosi has been saying Democrats won't vote for another continuing resolution without progress on securing the Deferred Action for Childhood Arrivals program. Whether Meadows and company will actually do it is another question. Last time the Freedom Caucus caved at the last minute, and they may not want to risk taking the blame for another shutdown, especially over an immigration bill that has no chance in the Senate.
If congressional leaders are concerned, they're not letting it show. While they have only three working days to hash this all out, both parties still intend to go on their previously scheduled retreats, where they'll spend three days planning out their legislative strategies for the coming year. Republicans headed to West Virginia on Wednesday (following a tragic, fatal train accident), and Democrats are set to leave for Maryland on February 7.
Democratic senator Dick Durbin, one of the lead immigration negotiators, said he "hopes" meetings on DACA will continue in the next week. "But," he said, "let's be honest: retreats." Surely they'll find some solution, since members of Congress aren't fond of letting work get in the way of travel plans.