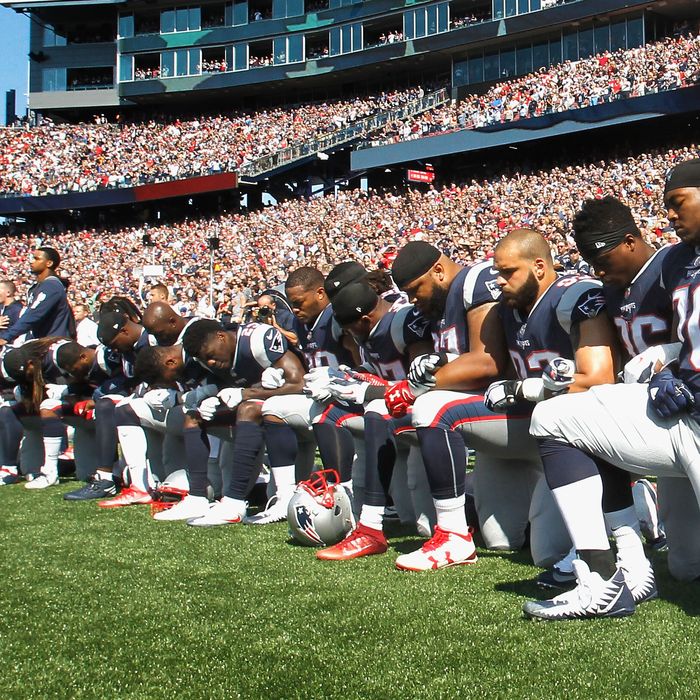 Members of the Patriots kneel during the national anthem in September.
Photo: Jim Rogash/Getty Images
As tens of millions of Americans gather around family-size bags of Ruffles Sunday evening to watch America's glitziest celebration of head injuries and consumerism, Catherine Templeton, a Republican candidate for governor in South Carolina, will not be among them.
"I won't enrich the NFL by even watching the Super Bowl," the South Carolina attorney said in a tweet Wednesday. The tweet, which tagged President Trump, included a video in which Templeton said, "It is spoiled, entitled, ridiculous for people who are living under the freedom that was provided by the people who defended that flag to kneel."
Templeton is challenging Governor Henry McMaster in the Republican primary and she's one of a handful of GOP primary candidates this year proving their conservative credentials by going after the NFL. President Trump spent months last fall criticizing players for kneeling during the national anthem, turning it into the culture-war battle du jour by accusing them of disrespecting veterans. On the eve of the Super Bowl, Republicans around the country have been eager to imitate him, even if the players have made it clear that their protests are about racial and social injustice, not the troops.
Templeton's declaration to own the libs by not watching the Super Bowl came just a day after McMaster pulled his own NFL-related stunt. On Tuesday, the governor issued a proclamation designating this coming Sunday as "Stand for the Flag Super Bowl Sunday." The decree called on all South Carolinians to "show the world our state's resolute commitment to supporting our troops by standing for the national anthem wherever you watch the Super Bowl with your loved ones this Sunday."
McMaster took a harsher tone in a campaign email. "This football season we've seen NFL players disrespect our veterans by taking a knee to our nation's flag and anthem," he wrote. "In South Carolina, we respect our veterans and our men and women in the armed forces."
Meanwhile in Georgia, Republican state senator David Shafer, who's running for lieutenant governor, filed a resolution calling on Georgians to stand for the anthem Sunday and denouncing the NFL for "hypocritical actions." The latter criticism is a response to the NFL's rejection of an ad from AMVETS in the Super Bowl program. The ad includes the text "#PleaseStand," which the league tried to get veterans' group to change before rejecting the "political statement."
Tennessee congresswoman Diane Black, a candidate for governor, is also mad about the AMVETS ad. "It's too bad that the league doesn't respect the patriotism of our national anthem," she says in a new commercial that includes a call to stand for the anthem, no matter where you are. The ad will run during the Super Bowl pregame show in Tennessee and cost Black $50,000.
For Georgia gubernatorial candidate Michael Williams, not watching the Super Bowl, urging people to stand for the anthem, and blowing campaign funds on a commercial aren't enough. That's why he's "done with the NFL."
"The overpaid crybabies kneeling during our national anthem no longer deserve my patronage," he said in a statement Thursday. "Without the support of viewers, most of them would be nobodys (sic) that wouldn't qualify to be garbage men."