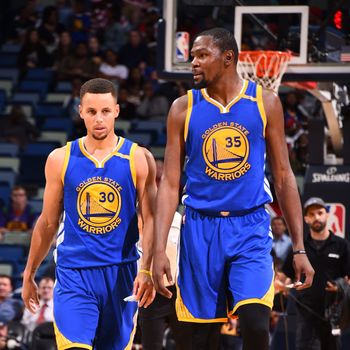 Warriors stars Stephen Curry and Kevin Durant.
Photo: Andrew D. Bernstein/NBAE/Getty Images
Next Wednesday, the Golden State Warriors are scheduled to play the Washington Wizards at D.C.'s Capital One Arena. But unlike the last time they visited Washington as defending champs, Stephen Curry & Co. won't be making a stop at the White House. Instead, the team will take a private tour of an undisclosed location with local kids, ESPN reports.
The outing was organized as an alternative to the typical White House trip made by the previous year's NBA champs. From the moment they won the title in June, it was clear that the Warriors were not interested in meeting President Trump, and a few months later Trump sealed the deal by rescinding the team's invitation.
As LeBron James, whose Cavs lost to the Warriors in the 2017 NBA Finals, noted in a now-iconic tweet, Curry didn't want to go so there was no invite to withdraw.
"It's their championship. They got disinvited to the White House, so it's up to them what they wanted to do. So they made their plans," Warriors head coach Steve Kerr told ESPN. "I want the players to have a good day and to do something positive and to enjoy what they're doing."
ESPN reports that the Warriors considered several other options for their trip to D.C., including a quick visit to Kevin Durant's hometown of Seat Pleasant, Maryland, where the star forward was fêted with a parade last August. The team was also invited to celebrate the title at the U.S. Capitol by Nancy Pelosi, whose district includes much of San Francisco, but not Oakland, where the Warriors play.
Ultimately, though, the team decided to avoid making a political statement with the celebration, Draymond Green told ESPN. "It's about something we did great. Why make it about [politics]?" he said.