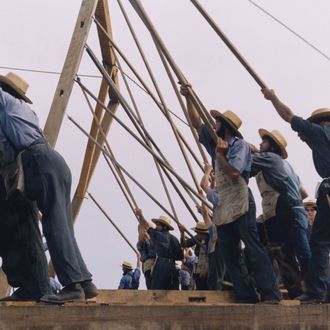 Futurists?
Photo: Three Lions/Getty Images
American politics has long been defined by the dominance of liberalism, understood in its broad sense as the philosophy of individual rights, freedom, and pluralism. Although Democrats and Republicans fight bitterly over a host of issues, these are largely family disagreements within liberalism. Both sides have made peace with capitalism, the primacy of the individual over the collective, freedom as the highest goal of politics, and the exercise of U.S. power abroad to backstop the "liberal international order." Whereas the 20th century saw communism and fascism seize state power in Europe and elsewhere, here the radicals of left and right have been reliably co-opted or shunted aside. The most serious native challenge to liberalism, made by the slaveholding oligarchy of the Old South, was crushed on the battlefield, and, despite the efforts of an ever-dwindling number of apologists, morally anathematized.
Recently, however, an accumulating list of crises and missteps by the country's bipartisan and broadly liberal Establishment — the disastrous crusade in Iraq, the global financial crisis, and the whole complex of cultural and economic grievances leading to the election of Trump — has begun to crack open the liberal consensus. Things that had been unquestioned are once again coming up for debate. On the left, a new generation of radicals, many of whom grew up through Occupy Wall Street or the Bernie Sanders campaign, criticize liberalism for its insufficiency and its legacy of compromises with the evils of capitalism, imperialism, and white supremacy. On the right, the collapse of neoconservatism during the Bush years has led to a revival of more il- and anti-liberal paleoconservatism, while Christian anxiety about cultural encirclement has fanned fears that the liberal state is no longer a guarantor of religious rights but an implacable enemy of them. On both sides, a growing number of voices is asking whether it's time to look beyond liberalism.
Perhaps the most influential book to emerge so far from this anti-liberal ferment is Patrick J. Deneen's Why Liberalism Failed, published in January by Yale University Press. In it, Deneen, a conservative Catholic political scientist at Notre Dame, delivers a scathing condemnation of American political culture, arguing that our current troubles may signal the final collapse of liberalism under the weight of its own contradictions. The rot is in fact so deep and fundamental, according to Deneen, that "we should rightly wonder whether America is not in the early days of its eternal life but rather approaching the end of the natural cycle of corruption and decay that limits the lifespan of all human creations."
Similar arguments have been made before, but Deneen's book appears to have caught a mood. (A surprise hit, it quickly sold out of its first print run on Amazon.) The book has been praised by conservatives like Rod Dreher and sports a blurb from black radical stalwart Cornel West on its back cover; it has earned multiple mentions in the New York Times and provoked thoughtful responses from liberals such as Shadi Hamid and Damon Linker, the latter of whom called it "the most electrifying book of cultural criticism published in some time." In an indication of the book's importance on the intellectual right, the journal American Affairs recently made it the subject of two separate review essays by right-wing Catholic heavyweights — the Polish philosopher Ryszard Legutko and Harvard Law professor Adrian Vermeule. Across the pundit spectrum, Deneen has found an audience willing to entertain the idea that liberalism, our governing philosophy of nearly 250 years, is dying or already dead.
Attacks on liberalism generally take one of two forms, corresponding to the political leanings of the attacker. The left likes materialist criticisms — liberalism fails because its favored economic system, capitalism, is too exploitative or inefficient to deliver on liberal promises of freedom, equality, and prosperity. The right, on the other hand, tends to consider liberalism as a philosophy, the problems of which derive from mistaken assumptions about the world and human nature. Deneen is no exception: Though critical of the material inequality and environmental destruction attributable to liberal capitalism, these are in his view simply consequences of liberalism's fundamentally bad premises being acted out upon the world.
At the core of Deneen's critique is what he sees as a liberal redefinition of the ancient and medieval concept of freedom, or libertas. The ancient Greeks and Romans, as well as the medieval Christians, understood freedom as the learned ability, cultivated through discipline and education in virtue, to properly govern one's self. The freedom to do what one desires is a false freedom, in this view, because the world is limited but our desires are not, so that in pursuing them we ultimately become their slaves. Becoming free, then, is the process of achieving mastery over our "base" impulses. There is a circularity, too, between good politics and good individual conduct. A society can only govern itself well if it comprises self-governing citizens, and citizens can only learn self-government within a well-governed society.
For Deneen, liberalism's big innovation was to reject this classical understanding as unrealistic, unscientific, and oppressive. Seeking a more scientific basis for politics, liberals and proto-liberals such as Locke and Hobbes stripped humanity down to its bare essentials — self-interested individuals unmarked by culture or history. Writing in a religiously divided and perpetually warring Europe, they argued that civil peace could be assured by allowing individuals to pursue their private interests free of the irrational restrictions imposed by custom, religion, and popular prejudice, with the modern state there to prevent them from taking advantage of one another. Freedom, that is, was redefined from self-government to lack of external restraint — a notion that was extended to the natural world, where humans, now armed with reason and modern science, no longer faced nature as a fixed limit on their desires, but something to be conquered and transformed. To legitimize the whole structure, liberal theorists projected this state of affairs back into a "state of nature," a mythical past in which individuals had come together and consented to be governed out of their own shared self-interest.
But while liberalism presented itself as a scientific description of reality, it was, for Deneen, from its beginning a project to transform the world. Humans, for instance, are not naturally isolated individuals. Everyone is born into a specific time, place, and cultural tradition which, however restrictive, is also the source of their identity and connection to other people. Yet modern liberal society, through the action of both the state and the market, erodes these "natural" social bonds, creating in their place the cultureless, isolated individuals that liberal theory claimed to find in the state of nature. And as individuals are stripped of the cultural norms that formerly governed social conduct, the resulting anarchy requires the state to step into the breach by threatening to punish those who violate the rights of others — retroactively coming to play the role that, in Hobbes's story, it was consciously and consensually created to fulfill. The general trend is that people are freed from old restrictions only to be subjected to the more abstract, alienating powers of capitalism and bureaucracy. Yet liberal ideology masks its own origins, presenting as natural conditions those that is has in fact created.
This conspiracy is one in which both American progressivism and conservatism are implicated. For Deneen, American conservatives, many of whom consider themselves "classical liberals," prefer a relatively limited state but endorse the scientific conquest of nature and the pursuit of self-interest through the market, both of which act as solvents on the traditional cultures and values they claim to wish to preserve. Progressive liberals, on the other hand, wish to use the state to reduce market-generated inequality — which they recognize can practically limit individuals' freedom — but vigorously attack pre-liberal cultural norms and institutions, such as organized religion and normative monogamy, that Deneen argues temper inequality and preserve social solidarity. While each apparently fights either the state or the market, they are in reality only two sides of the same liberal coin. Partisan politics, for Deneen, can thus only serve to further entrench liberalism, deepening the pathologies that are already becoming apparent.
And what are these pathologies? In politics, Deneen charges liberalism with having created, under the guise of representative government, distant, arbitrary, and unresponsive rule by technocrats who despise the ignorant populace and are despised in turn. Culturally, he argues that liberalism has eviscerated actual cultures and replaced them with a pervasive, homogenous "anticulture," in which identity is reduced to a sort of private, consumer good. And regarding the environment, liberalism's rejection of external constraints — particularly the constraints of nature — have led it to trash the planet while hoping, delusionally, that future technological advances will put off a reckoning forever. Perhaps most interesting is his chapter on the new ruling class, the "liberalocracy," which Deneen accuses of having established itself as a new aristocracy to replace the one it overthrew. Yet because these meritocrats are themselves creatures of liberalism — unattached individuals, defined by education and occupation rather than attachment to place or culture — they have little interest, he claims, in helping the system's losers, with whom they share little except nationality.
Why Liberalism Failed is a polemic, if an elegantly argued one, and it contains some of the drawbacks of the genre. Details are sometimes fuzzy and causal mechanisms unclear. Deneen argues, for instance, that liberal political philosophy is responsible for our feelings of subjugation to modern technology — yet non-liberal societies, such as China and Japan, have also been forced by competitive pressure to pursue technological development and now similarly face the problem of fraying social bonds. (Conversely, philosophers such as Heidegger have argued that West's tendency toward the technological domination of nature was already implicit in Plato and Aristotle, making liberalism an extension of rather than a break with pre-modern trends.) And as with many arguments for communitarian virtue against hedonistic individualism, thick social relations sound better in the abstract than when you consider the details (for a contemporary example of a non-liberal community, Deneen cites the Amish).
Moreover, anyone sounding the death knell of liberalism has to deal with its unprecedented and ongoing success — a fact that Deneen acknowledges but which can get lost in page after page of articulate despair. The United States is the richest and most powerful country in the history of the world; liberal capitalism and modern science have raised material living standards to a degree unimaginable to premodern humanity; and, despite histories of oppression and persistent inequalities, the liberal nations of the United States and Western Europe have gone farther than any others in advancing the rights of women and racial and sexual minorities. That might not last forever, but people have been predicting the impending implosion of the system since at least the 19th century, and it hasn't imploded yet.
Each of the successes listed above can be qualified — U.S. power has led to great destruction, poverty continues to exist alongside prosperity, and modern growth may well have exhausted the planet. And rage at the system, whether well founded or not, has left us with an incompetent demagogue as president and a political system that feels as if it is daily being stretched to its limits. Yet the important fact remains that every modern attempt to enact an alternative to liberalism has ended in disaster. It is not only that attempts to do away with the market economy generally fail on technical grounds, though they do. It is also that liberalism's abandonment of virtue in favor of private self-interest is difficult if not impossible to reverse at any scale. It may well be preferable, in the abstract, to have a shared vision of the good that our politics can strive to enact; the problem comes with the specifics. There are so many competing ideas of virtue that any attempt to establish one as definitive will provoke violent reactions. Liberalism, not coincidentally, emerged out of the desire to prevent civil war.
Deneen, to his credit, recognizes this problem. Instead of challenging liberalism directly, he suggests that the best way forward, for those so inclined, is to abandon the culture war and begin the practical work of rebuilding local communities that can embody the connections to people and place that he worries liberalism has eroded, and in which the virtues of self-mastery and self-limitation can be revived within their properly communal context. It's not a solution for everyone, but that's precisely the point. If Deneen's critique is sound, then maybe such experiments will work, as people respond positively to the draws of non- or post-liberal community. If he's wrong — if people really do find such arrangements so stultifying that they cannot bear the pressure — then only those who opted in will have been harmed. At a time when ever-larger factions of left and right are fleeing from liberalism, many of them for ominous alternatives, that may be the best we can hope.