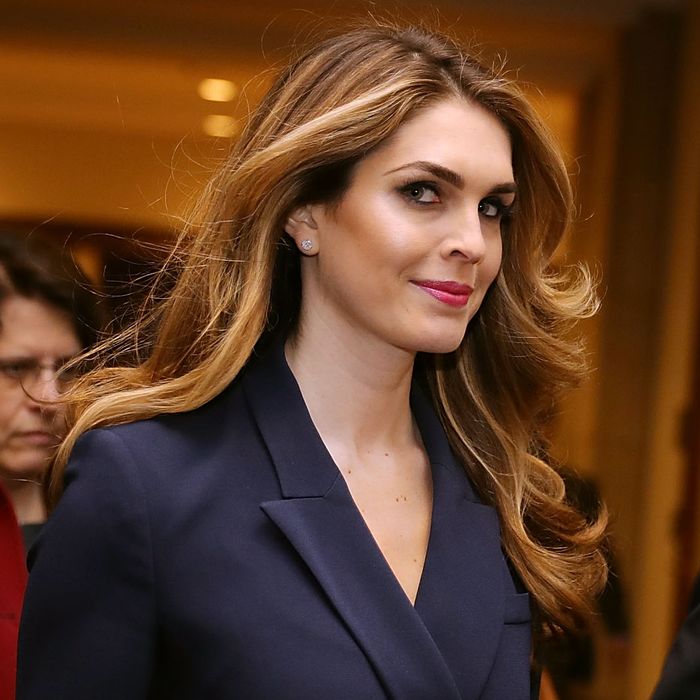 It takes two to lie, one to lie and one to listen.
Photo: Chip Somodevilla/Getty Images
If anyone still takes the House Intelligence Committee's Russia probe seriously even after Chairman Devin Nunes's coordination with White House officials and hyping of his own dud memo in an attempt to discredit Special Counsel Robert Mueller's investigation, testimony from Hope Hicks on Wednesday should set them straight. The White House communications director told House investigators that while her work for President Trump occasionally required her to tell white lies, she doesn't lie about important things, like colluding with the Russians. The New York Times reported:
But after extended consultation with her lawyers, she insisted that she had not lied about matters material to the investigations into Russia's interference in the 2016 presidential election and possible links to Trump associates, according to three people familiar with her testimony.
The idea that anyone should trust Hicks's assessment of white lies versus serious lies is absurd. Her statement would be an appalling admission from the person running the White House communications team if we weren't so accustomed to the president himself spreading falsehoods on a daily basis.
The admission doesn't make much of a difference in the House Russia probe, however. The far bigger issue is that Hicks, who's been by Trump's side since the earliest days of the campaign, refused to answer questions about the transition or her time in the White House, and House Republicans don't appear inclined to do anything about it.
Hicks used a legal strategy pioneered by Trump officials like Attorney General Jeff Sessions, and deployed in full by Steve Bannon, Trump's former chief strategist, when he appeared before the House Intelligence Committee in January. The idea is to refuse to answer questions because the White House might invoke executive privilege at a later date, without formally doing so. As Bannon's attorney relayed questions to the White House counsel, he refused to answer questions about the transition, the White House, or even his discussions with Trump after his firing. While he was testifying voluntarily, Democrats and Republicans on the committee agreed to subpoena him on the spot. Bannon still refused to talk, and lawmakers have been mulling whether to hold him him in contempt ever since.
Hicks did not get the same aggressive treatment during her eight hours of private testimony. Representative Adam Schiff, the committee's top Democrat, said he and his colleagues pushed to subpoena her, but the Republicans who control the committee refused.
"That's an overly broad claim of privilege that I don't think any court of law would sustain. And I think the White House knows that," Schiff said. "This is not executive privilege, it is executive stonewalling."
Republicans claimed Hicks is different than Bannon because she is currently working in the White House, and answered some of their questions about the transition — though only after it was pointed out that she'd already discussed the topics before the Senate Intelligence Committee. There were many significant topics she wouldn't go into, such as the drafting of a misleading statement from Donald Trump Jr. on his meeting with Russians during the campaign. Discussions about the statement reportedly left Mark Corallo, the former spokesperson for Trump's legal team, with concerns that Hicks was considering obstructing justice.
GOP committee members say they don't accept the White House's interpretation of executive privilege, but they appear willing to let it slide. While some Republicans and Democrats think they must issue a contempt citation for Bannon to set an example for other witnesses, the decision depends on Representative Mike Conaway, who is leading the House Russia probe, and Speaker Paul Ryan. Conaway said on Tuesday that he's yet to discuss the matter with Ryan — which is unsurprising, since Ryan has quietly refused multiple requests to rein in Nunes, and Trump's abuses of power in general.
That doesn't mean there's no hope of ever getting Hicks to answer all the questions pertaining to the Trump team's ties to Russia. White House officials can't invoke executive privilege when they testify before the special counsel, who is also part of the Executive branch. Both Bannon and Hicks have already submitted to hours of questioning by Mueller's team.