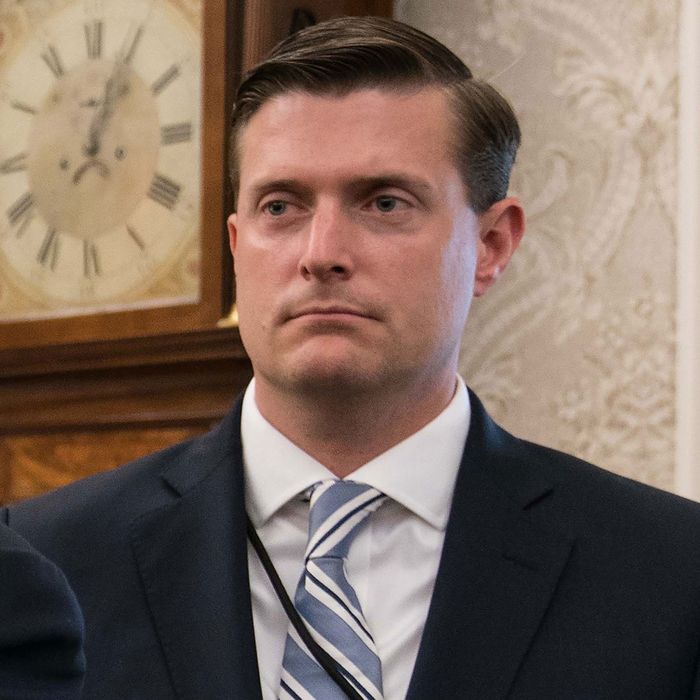 Former White House staff secretary Rob Porter.
Photo: Nicholas Kamm/AFP/Getty Images
The Republican-controlled House Oversight Committee has launched an investigation into the White House's employment of Rob Porter, President Trump's former staff secretary who is accused of domestic assault.
Speaking on CNN Wednesday, Committee chairman Trey Gowdy, a Republican from South Carolina, said he has begun directing "questions to the FBI that I expect them to answer."
At issue is what the Trump administration knew about the allegations against Porter, who served his entire tenure in the White House with only an interim security clearance, and when those details were known.
On Tuesday, FBI Director Christopher Wray told the Senate that the White House received a full background check on Porter last summer. Wray said additional information was presented to the White House in November before Porter's file was closed in January. This contradicts claims initially put forth by White House officials, including Chief of Staff John Kelly, who claimed to not be fully aware of the allegations against Porter until last week. Kelly later told White House staffers that he personally fired Porter after learning that the abuse claims against him were "credible," according to the Washington Post. That's at odds with Wray's testimony.
"I would want to know from Don McGahn and General Kelly and anyone else: What did you know, from whom did you hear it, to what extent did you hear it and then what actions, if any, did you take? The chronology is not favorable from the White House," Gowdy said on CNN.
"I have real questions about how someone like this could be considered for employment," he added.
Asked about the White House's employment of Porter, House Speaker Paul Ryan said Wednesday, "Clearly they have work to do to fix their vetting system."