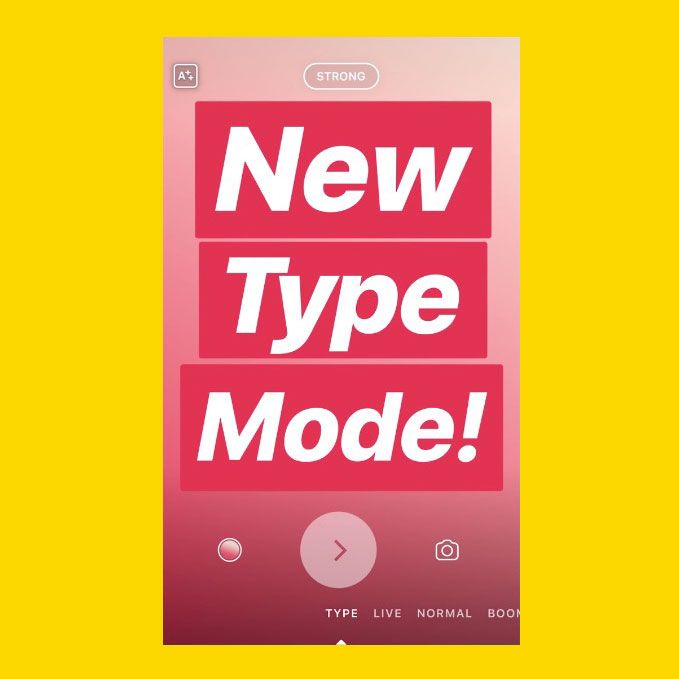 Before today, if you wanted to make a text-only slide in your Instagram Story, you had to cobble one together using a combination of a secret pen-tool hack and an added caption. (True Instagram Stories fans will know what I'm talking about!) Now, Instagram is rolling out a new feature called Type Mode, which means you won't have to do this, and if you never did this, you won't have to learn. Instagram has been testing this feature for some time now and says it is available for all users on iOS and Android. (If you're not seeing it, update your app and try again.)
To use the feature, open the camera in Instagram. Along the bottom, you'll see a bunch of options — the camera defaults to "NORMAL" — swipe right until you get to "TYPE." You'll see a pink gradient across your screen and a prompt to "TAP TO TYPE." Do what your screen says and, well, tap and type. You can change the background color by tapping the pink circle in the lower-left-hand corner of the app. You can change the font style by tapping the icon at the top of the screen. It'll show "MODERN," but you can choose from options like the self-explanatory "TYPEWRITER," and "NEON," a backlit cursive. If you tap the camera icon in the lower-right-hand corner of the screen, you can take a photo that will appear underneath the background color you've chosen.
Type Mode is an unsurprising addition to Instagram's suite of tools. Users, especially influencer types, had already been employing a work-around for months, and third-party caption apps are having a bit of a moment. Earlier this week, Apple's App Store served me a module of the best, hottest caption apps for iPhone. My personal favorite, an app called Hype Type, lets you add animated captions to videos and photos. It's not hard to see a world where Instagram's built-in Type Mode includes this feature, too.