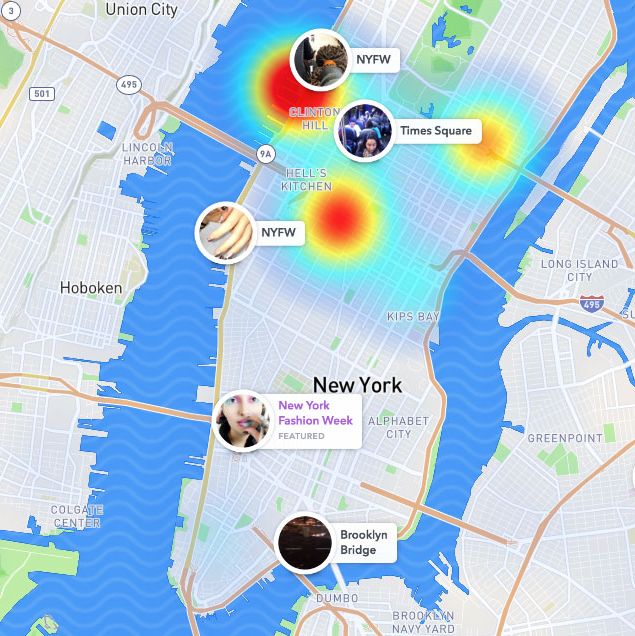 Snapchat's newly redesigned — it was supposed to make the app easier to use — app is driving people crazy. If you haven't updated to the most recent version, try to save yourself for as long as possible. Plus, the platform's growing trend of making content available on desktop means that you can enjoy a lot of the app without actually needing to have the app.
On Monday, the company announced that the Snap Map is now available online and without a Snapchat log in. Unlike its app counterpart, the desktop version will not show where your friends are by placing their respective Bitmoji on the map. Instead, all you'll be able to see are public Stories that users have submitted to Snapchat. Some will be curated into formal Stories from specific locations or events, while others will be visible via a heat map, which shows by color where the most snaps have been submitted. Content on the desktop map will be moderated by Snapchat and will, as with all things Snapchat, only last for a limited period of time, namely 30 days. (The map can be embedded, though that gets a little tricky when you consider that you'd be embedding something that would vanish after a month.)
At the end of January, Snapchat announced that it was making changes to allow users to share Stories outside of the app. It was the first time that Snapchat had ever done something to make itself more public, and less the walled-off teen haven that has long been the app's calling card. Monday's map release seems to indicate that this might be a trend for Snap. Which is great for anybody who enjoys clicking around the world and seeing what people are up to — we were big fans of playing this game in the early days of Snap Map — without having to use Snapchat's newly newfangled app. Of course, if you're Snapchat, you're probably hoping that the desktop map will do just the opposite and convince non–app users to get onboard and download.