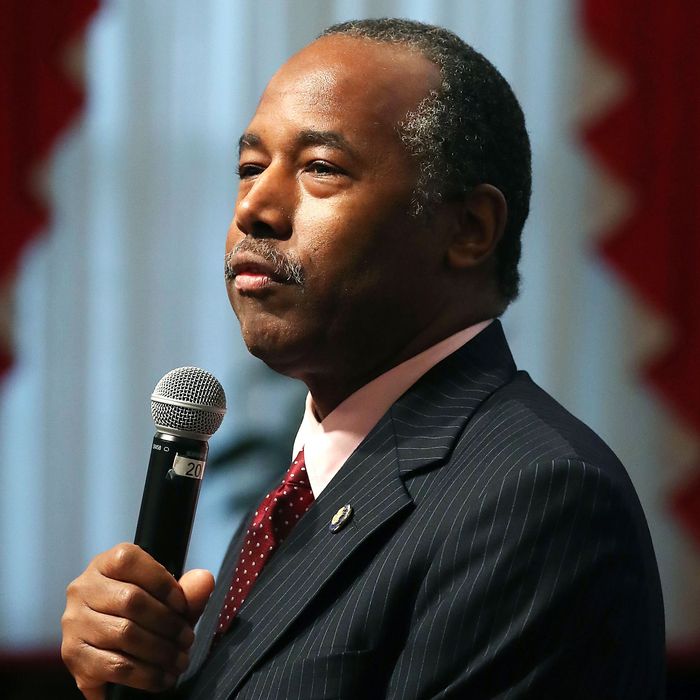 A man with an inadequate chair.
Photo: Mark Wilson/Getty Images
With his space-cadet demeanor and penchant for casually bringing up the apocalypse in conversation, Secretary of Housing and Urban Development Ben Carson is a lot weirder than most Trump cabinet secretaries. But he does share at least one important commonality with most of his fellow swamp-dwellers: The department he runs is an ethical nightmare.
The Guardian reported on Tuesday that a senior career official at HUD filed a lawsuit claiming that she was replaced with a Trump appointee after she declined to find extra (read: illegal) funds to help luxurify Carson's office.
Helen Foster said she was told "$5,000 will not even buy a decent chair" after informing her bosses this was the legal price limit for improvements to the HUD secretary's suite at the department's Washington headquarters.
Foster, 47, claimed that she also faced retaliation for exposing a $10m budget shortfall, and for protesting when she was barred from handling a pair of sensitive freedom of information act (FOIA) requests relating to Trump apparently because she was perceived to be a Democrat.
The Guardian story reveals the kind of general Trumpist moral rot that has pervaded Washington. After the office incident, Foster alleges that she was sidelined in favor of the Trump appointee, Suzanne Israel Tufts, and then put in charge of handling Freedom of Information requests, among other duties. She claims that an attorney at HUD asked her to handle two particular FOIA requests "discreetly." These related to Lynne Patton, a Trump family event planner who was given a hugely consequential job at HUD despite having no experience in housing policy. The attorney in question, Maren Kasper, was then the HUD liaison to the president; Foster's complaint further states that Patton wanted Kasper fired because she was critical of the president.
None of this is particularly surprising, considering earlier reports that Carson had tapped close family members to help run his department, in a breach of the norms our president so loves to destroy. (Carson responded to those reports by claiming that he was "under attack by the media.")
Oh, and of course there's the fact that Carson was not only completely unqualified to run the department in the first place, but, in his own distant way, has given the place's destruction his seal of approval.
Foster wants to be reinstated to her former position at HUD, as well as damages and a public apology.
HUD would not comment to the Guardian about the lawsuit.
A previous version of this story incorrectly stated that Lynne Patton allegedly advocated for the firing of Helen Foster. In fact, it was Maren Kasper whom she allegedly wanted fired.