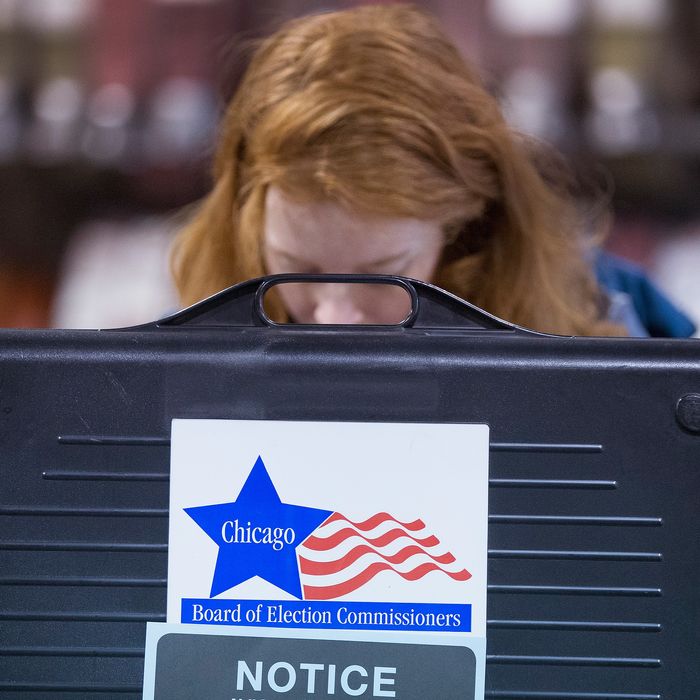 "Ugh, really?"
Photo: Scott Olson/Getty Images
Last fall, polls had Republican Alabama Senate candidate Roy Moore leading his Democratic challenger by double digits in the deep-red state — and then multiple women accused him of assaulting them as teenagers. Luckily, Democrats had a solid candidate in Doug Jones; he would become the first Democrat Alabama elected to the Senate in more than 20 years.
It seems some Republicans did not heed one of the most basic lessons from this incident: always field a candidate. That's why the Illinois Republican Party will be stuck with a Holocaust denier as their nominee in Illinois's Third Congressional District this fall.
Arthur Jones, a 70-year-old retired insurance agent, holds a variety of reprehensible views. According to the Washington Post, his website describes the Holocaust as "the biggest, blackest, lie in history," and calls the Confederate flag "a symbol of White pride and White resistance." The Anti-Defamation League has been tracking Jones for years, and noted that he protested the opening of the Illinois Holocaust Museum and Education Center in 2009, and has spoken at numerous neo-Nazi rallies and events.
Illinois Republicans do not want Jones representing their party. Tim Schneider, the party's state chairman, said in a statement to the Chicago Sun-Times: "The Illinois Republican Party and our country have no place for Nazis like Arthur Jones. We strongly oppose his racist views and his candidacy for any public office, including the Third Congressional District."
So why is he running unopposed in the GOP primary? The Third District, which comprises parts of Chicago and nearby suburbs, is heavily Democratic. The seat will almost certainly go to one of the two candidates facing off in the Democratic primary, incumbent Daniel Lipinski or challenger Marie Newman.
Jones has made seven unsuccessful runs in the Republican Third Congressional District primary since the 1990s. In 2016, the Illinois Republican Party managed to have him removed from the ballot because his petitions were faulty, allowing Lipinski to run unopposed. The party looked into kicking him out of the primary again, but he was more careful with his signatures for the 2018 ballot. The party could have blocked him from winning the GOP primary by running any less bigoted Republican, but it's too late for that, as the filing deadline was in December.
When Jones was running in 1998, the Cook County Central Committee passed a resolution formally denouncing his candidacy because they were concerned that his nomination would be a "national embarrassment" for Republicans in the county. His impending primary win presents an even bigger headache today. Thanks to President Trump, Republicans are already fending off accusations that their party is sympathetic to anti-Semites and white supremacists. (Jones recently said he's sorry he voted for Trump because he's "surrounded himself with hordes of Jews.")
To make matters worse, the Illinois Republican Party is dealing with another bigotry-related scandal. Over the weekend, state Representative Jeanne Ives, who's launched a primary challenge against Governor Bruce Rauner, released an ad in which actors playing a transgender woman, a pro-choice activist, an "illegal immigrant criminal," and other right-wing bogeymen thank Rauner for advancing their interests (for example, a woman wearing a pink pussy hat thanks him for making Illinois families "pay for my abortions.").
The state GOP denounced the ad, saying, "There is no place in the Illinois Republican Party for rhetoric that attacks our fellow Illinoisans based on their race, gender or humanity." Unfortunately for Illinois Republicans, a passionate anti-Semite was able to find a place on their ballot.