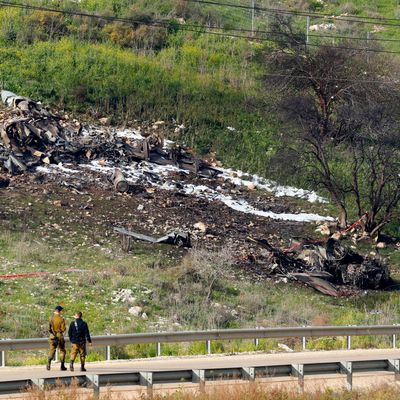 The remains of an Israeli F-16 that crashed after coming under fire by Syrian air defenses on Saturday.
Photo: JACK GUEZ/AFP/Getty Images
Israel says it has conducted air strikes on Iranian targets inside Syria in retaliation for what it claimed was an infiltration of its territory by an Iranian drone on Saturday morning. The strikes mark the first time Israel has directly targeted Iranian forces in the country, and represents a dangerous escalation for all three sides. It is not yet clear if there were any Iranian or Syrian casualties.
After shooting down and retrieving an alleged Iranian drone in its airspace early Saturday morning, Israel first struck what it claimed was an Iranian drone control facility near the Syrian city of Palmyra. One of its F-16 fighter jets was struck by anti-aircraft fire during its return flight, however, and ultimately crashed after crossing into northern Israel. Both of the F-16's crew members survived, but their plane is believed to be the first jet Israel has lost during the Syrian conflict. Syrian state media reported that the country's air defenses had fired on Israeli planes after they attacked a military base.
In retaliation for firing on the jet, Israel then launched a much larger second air raid, striking 12 targets in Syria, including four "Iranian military targets," according to the Israel Defence Forces. The Los Angeles Times notes that monitors in Syria subsequently corroborated strikes on military sites near the Damascus suburbs of Dimas and Kiswah. No casualties have been reported yet, but Saturday's events run the risk of dragging both Israel and Iran into deeper and more dangerous roles in the Syrian conflict.
The drone incursion was a "serious Iranian attack on Israeli territory," Israel's chief military spokesman subsequently said. "Iran is dragging the region into an adventure in which it doesn't know how it will end." However, another IDF spokesman also insisted that though Syria and Iran "are playing with fire" and the confrontation was "by no means behind us," Israel is "not looking to escalate the situation." Israeli prime minister Bibi Netanyahu later said that the day's violence proved that Israel's warnings about Iran's "military entrenchment" in Syria and desire to attack and destroy Israel were correct.
An Iranian foreign ministry spokesman ridiculed the idea that one of the country's drones had been shot down, or that it had been involved in firing on the Israeli jets. Russia, another one of Syria's key allies which is militarily involved in the country, released a statement urging "all sides to exercise restraint and to avoid any actions that could lead to an even greater complication of the situation." It also called on nations to "unconditionally respect the sovereignty and territorial integrity of Syria and other countries of the region."
Iran has been actively helping Syrian president Bashar al-Assad fight rebel groups in Syria since 2011, supplying arms, advisers, militias, and reportedly even elite Quds Force fighters.
Though Israel has mostly remained an outsider in the larger conflict, it has repeatedly launched air strikes on Syrian targets over the course of the country's civil war in what it says have been attempts to prevent Iranian weapons from making their way to Iran-backed Hezbollah fighters in neighboring Lebanon. Israel has alleged that Iran is establishing military bases and missile factories in Syria, and Reuters reported last week that the Israeli air force has targeted the Syrian military and Hezbollah almost 100 times in the past six years. Regardless, Saturday's violence was the biggest exchange of fire between Israel and Syria since 1982 during the Lebanon war.
The Pentagon has denied any involvement in the Israeli strikes, but expressed its support for Israel's right to defend itself and encouraged "greater international resolve in countering Iran's malign activities." The U.S., of course, has its own new problems in Syria as well.