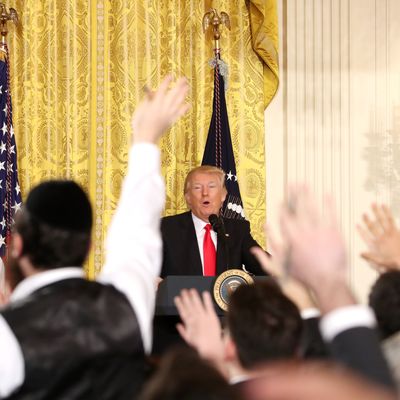 The one and only press conference Trump has held in office.
Photo: Mark Wilson/Getty Images
One year ago today, President Trump held an off-the-rails press conference that included attacks on the press, asinine claims — "lots of things are done with uranium, including some bad things" — and the suggestion that April Ryan, a black reporter, set up a meeting for him with the Congressional Black Caucus because they must be her "friends."
That was the last time Trump held a press conference.
The 365 days and counting since Trump's presser marks a new record, the Daily Beast reports. Not since Lyndon Johnson has a president gone so long without opening himself up to reporters, according to records kept by the American Presidency Project.
Trump hasn't completely walled himself off from the media. In a statement to the Daily Beast, the White House cited Trump's "impromptu gaggles" and questions taken from pool reporters as evidence that he and his administration have been uncommonly accessible.
And while it's true that Trump often indulges reporters who shout questions as he's signing bills, or walking to Marine One, he has studiously avoided the longer, more formal setting of a presidential press conference.
That's not by accident. As Trump showed in his one official presser, he hates the media. He prefers to use Twitter, where he can lie without being challenged, as he did today when he blamed Democrats for their poor treatment of Dreamers.
If he said something like that in a press conference, he'd likely be reminded that he was the one who killed DACA.