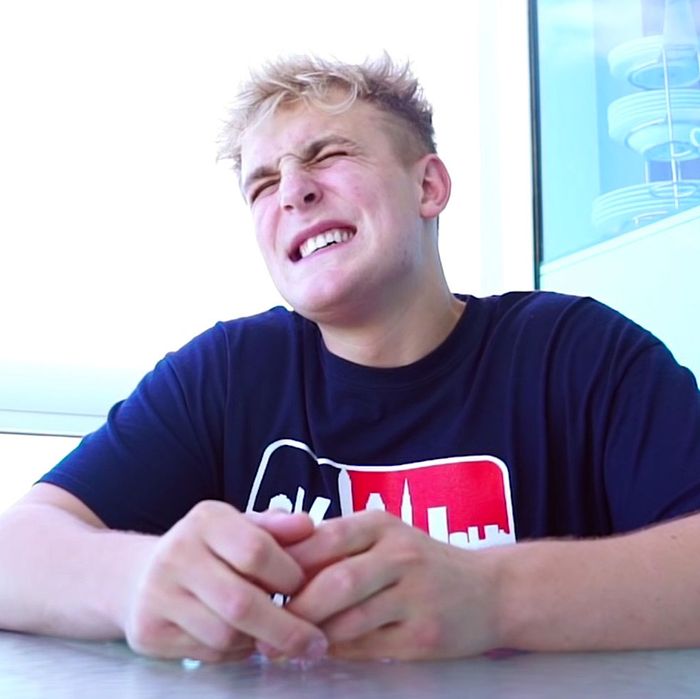 Jake Paul is taking a few days off of vlogging.
Photo: Jake Paul via YouTube
In a not-at-all melodramatic video on his YouTube channel today, the infamous — though not as infamous as his brother Logan "I Once Vlogged an Apparent Suicide Victim Hanging From a Tree" Paul — Jake Paul announced he's taking a few days away from vlogging. Paul's mantra is "it's everyday, bro," and he's been vlogging, well, every single day, for over 500 days. In the video's intro, Paul says he's been asking himself what the true meaning of "it's everyday, bro" really is. "The meaning isn't necessarily vlogging every day, but it's again smiling every single day, getting better every single day, coming together as a community," Paul said.
As for what he'll be doing with his newfound vlog-free time, Paul says he's "taking some time to go and help some people." He doesn't offer up any other details, though people on Twitter are claiming he's in Florida to help the survivors of the shooting at Marjory Stoneman Douglas High School, which left 17 people dead on Valentine's Day. In the video, he appears on the balcony of an apartment — owned by the dad of Team 10 member Justin Roberts — in Miami, where Paul has previously filmed videos. (You can see the same white railing and Coke bottles displayed in this video if you need visual confirmation.) Paul also said he needs to be "100 percent focused" on helping said people in "a lot of need."
It seems worth noting that the last time Paul took on this kind of project, he headed to Texas to help with Hurricane Harvey relief. He said he was unsure if he'd be able to vlog while in Texas — he did —and wound up being mobbed by fans in the parking lot of a Walmart until law enforcement was called in to control the scene. Also, Paul has a giant automatic rifle tattooed on his thigh. It's decorated with the Gucci logo, a nod to a song Paul recorded with Gucci Mane. Paul reportedly paid $250,000 to Gucci Mane for his verse to appear on the track.