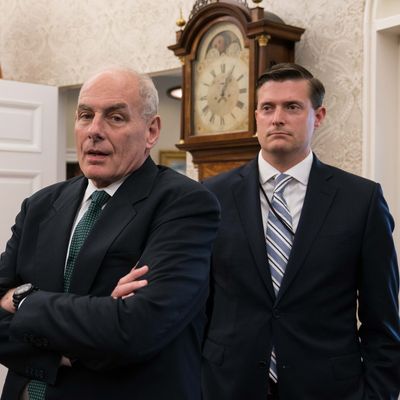 John Kelly and Rob Porter.
Photo: NICHOLAS KAMM/AFP/Getty Images
Over the past seven months, John Kelly kept dropping strong hints that while he might be the "adult in the room" at the White House, he wasn't all that different from the other characters on President Trump's team.
In October he used his credibility as a retired Marine Corps general whose son was killed in Afghanistan to attack a congresswoman who reported that Trump made insensitive remarks to a soldier's widow. When it turned out he'd made false accusations against the congresswoman he refused to apologize.
Kelly went on to defend Confederate General Robert E. Lee as "an honorable man" and claim "the lack of an ability to compromise" caused the Civil War. He said some of candidate Trump's comments on immigration were "uninformed," earning a public rebuke from the president. Then this week he said some undocumented immigrants were "too lazy to get off their asses" and apply for the Deferred Action for Childhood Arrivals program.
Yet Kelly's job seemed unusually secure for someone serving in the Trump administration. Under his tenure many polarizing figures, from Anthony Scaramucci to Steve Bannon, were forced out of the West Wing, and the White House did seem to run more smoothly than it did under his predecessor, Reince Priebus.
That changed over the last week with Kelly's shockingly inept response to the revelation that both of White House staff secretary Rob Porter's ex-wives accused him of domestic violence. Kelly initially released a statement praising the aide as a "man of true integrity and honor," and reportedly discouraged him from resigning. It was only after Porter's first wife released images of her bruised face that Kelly released a second statement saying, "There is no place for domestic violence in our society" — though he also said he stood by his previous praise for Porter.
Though Porter resigned, the fallout grew worse on Thursday amid new reports that top Trump staffers had known about the abuse allegations for many months. The Washington Post reported that White House counsel Donald McGahn was aware of the claims a full year ago and did nothing:
Among the questions he left behind was whether Mr. Kelly and other members of Mr. Trump's inner circle had been willing to ignore accusations of domestic violence to protect a trusted aide. Raj Shah, the deputy White House press secretary, said that Mr. Kelly had not been made "fully aware" of them until this week. But two people close to the White House said that Mr. Kelly and Joe Hagin, the deputy chief of staff for operations, as well as Donald F. McGahn II, the White House counsel, had known of the issues since late fall.
In the fall McGahn reportedly filled Kelly in on why Porter only had interim security clearance, and they decided he should stay in his role, which involved handing sensitive documents directly to the president. Kelly even offered him more duties.
A White House official said McGahn was only vaguely aware that Porter's ex-wives had made damaging allegations against him, but he didn't look into the matter because Porter said they were untrue.
The White House response to the Porter controversy abruptly shifted on Thursday, possibly because Sarah Huckabee Sanders was on vacation. A day after she said that Trump and Kelly had "full confidence" in Porter, Deputy Press Secretary Raj Shah made a rare admission: The White House "could have done better" in its response to the abuse allegations.
It seems that did not go over well with the president.
It appears Trump was only briefed on the situation recently, and Vanity Fair's Gabriel Sherman reported that Ivanka showed her father the pictures of Porter's ex yesterday. "He was fucking pissed," said a reporter briefed on their conversation. Ivanka and Jared Kushner are said to be considering potential replacements for Kelly, but there are no obvious candidates.
The New York Times reported that among those Trump called to vent his frustrations was Reince Priebus, who was pushed out to make room for Kelly. (Priebus denied talking to the president about his current chief of staff.) The paper said Trump has also been asking advisers if they think Mick Mulvaney might make a good chief of staff. (Presumably he'd resign the two positions he currently holds, director of the White House budget office and the Consumer Financial Protection Bureau.)
The White House has defended plenty of alleged abusers, but thanks to the photographs and the ex-wives' willingness to speak to the press, this time the Trump team wasn't able to deny the story and wait for it to blow over. Plus, it exposed a larger issue within the Trump administration: the dozens of White House aides working with only interim security clearances, like Kushner.
Politico reported that the FBI intended to deny full security clearance for multiple aides, but Kelly hadn't gotten around to letting them go. "He knew it was a problem having people who would never be granted permanent clearances and he was preparing to deal with it. And this blew up in his face," said a senior administration official.
Kelly was still trying to smooth things over on Thursday night, sending an email reassuring White House staffers that he takes "matters of domestic violence very seriously."
Kelly associates also rolled out a defense that's usually reserved for Trump: He's new at this (though the idea that domestic-violence claims should be taken seriously even if there isn't hard evidence certainly isn't new). The Times reports:
Friends and associates noted that with Mr. Kelly's lack of experience in Washington politics, he may not have been attuned at first to how the domestic abuse allegations against Mr. Porter would be perceived.
The lack of suitable replacements is working in Kelly's favor, but it's also easy to see Trump ditching him. He has unprecedented tolerance for wrongdoing by his staffers, until it starts to reflect poorly on him.