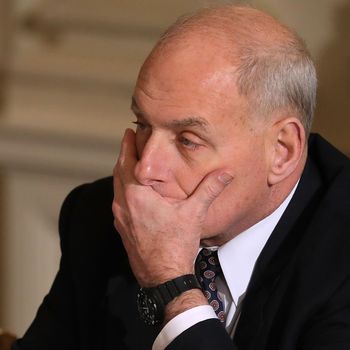 John Kelly.
Photo: Chip Somodevilla/Getty Images
White House chief of staff John Kelly has approved an overhaul of how the White House handles temporary security clearances after facing bipartisan pressure in the wake of the Rob Porter scandal. Porter, the former White House staff secretary, had been allowed access to highly classified information via an interim security clearance, despite the fact that the FBI had learned of allegations of his domestic abuse and informed the White House. Kelly and the White House have offered unreliable explanations for this failure thus far, and subsequent reports have noted that Porter was hardly the only staff member in the White House working without permanent security clearance. On Friday, Kelly sent out a memo acknowledging that "recent events have exposed some remaining shortcomings" in the White House security clearance process, and that "we should — and in the future, must — do better" handling the issue.
Under the new policy, which Kelly developed with White House counsel Donald McGahn, staffers with interim security clearances will not be allowed access to certain highly classified information without explicit approval from Kelly, and top secret or SCI-level intelligence privileges will be revoked, as of next Friday, for any staffer whose background check has been pending since June 1, 2017. Those staffers affected should include Jared Kushner, who is is still without permanent security clearance after more than a year as President Trump's senior adviser. Kushner and Ivanka Trump could both be excluded from high-level meetings and have their access to sensitive information revoked as a result of the new policy, though it seems more likely that Kelly or the president will grant them some kind of exception.
Kelly announced that in the future, the FBI should "hand deliver" staff background investigation results to McGahn, and any "significant derogatory information" uncovered about employees should, if possible, be reported to the White House within 48 hours. How effectively, or thoroughly, the new policy is implemented remains to be seen. In addition, as national security lawyer Mark Zaid — who represents government employees when they are going through the security clearance process — pointed out on Friday, the overhaul shouldn't even be needed: