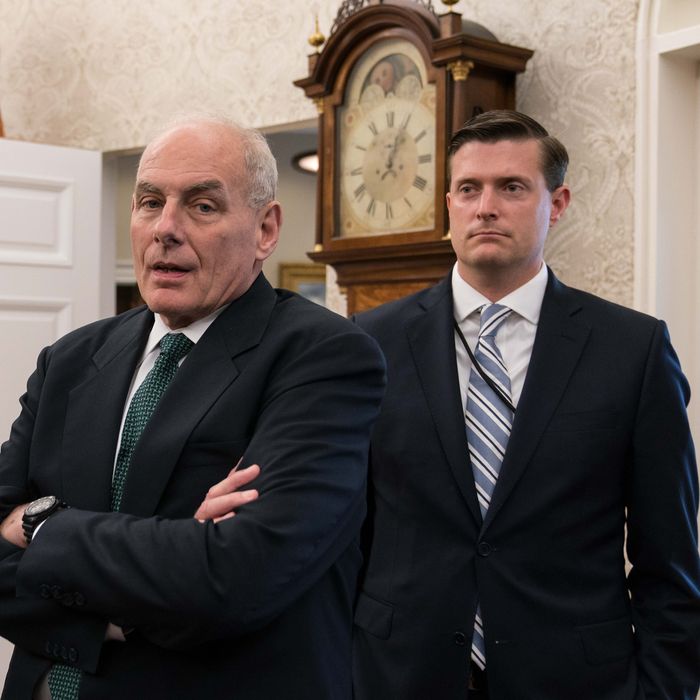 Who knew? Oh, me.
Photo: NICHOLAS KAMM/AFP/Getty Images
Rob Porter, the White House staff secretary, is a Harvard graduate, a Rhodes scholar, and a former Senate aide, who's worked closely with White House Chief of Staff John Kelly as he's tried to bring stability to the often chaotic administration. His second ex-wife, Jennifer Willoughby, described him as "charming and intelligent and diligent and extremely good at his job."
However, Willoughby added that Porter is also "in capital letters, abusive and manipulative and toxic in his personal relationships." Over the past three days, both Willoughby and Colbie Holderness, Porter's first wife, have said they suffered physical, verbal, and emotional abuse during their marriages. On Wednesday Porter, who is reportedly dating White House Communications Director Hope Hicks, resigned as staff secretary, but only after receiving a vigorous defense from several top White House officials.
It's common for domestic abusers to appear stable and kind to people outside the relationship, and it's understandable that those who only know Porter as a mild-mannered attorney often by President Trump's side would be taken aback by the allegations. But according to CNN, senior White House officials have been aware of the claims against Porter for months, as it prevented him from obtaining security clearance. Politico reported that in recent weeks, Porter's ex-girlfriend, who also works in the Trump administration, told White House counsel Don McGahn that he had a history of abuse and she was distressed when she learned he was dating Hicks.
Nevertheless, Porter was allowed to remain in his job, which involves managing the documents put in front of the president. CNN notes he was even promoted:
Instead, Kelly and others oversaw an elevation in Porter's standing. He was one of a handful of aides who helped draft last week's State of the Union address. He traveled instead of Kelly to the World Economic Forum in Davos last month. And he was one of a select group of aides who shook Chinese President Xi Jinping's hand during a state visit to Beijing in November.
The world learned about the abuse allegations on Tuesday, when the Daily Mail published Willoughby's detailed account of her marriage to Porter, which lasted from 2009 to 2013. The paper also published a protective order Willoughby filed against Porter, in which she says he refused to leave her apartment, violating their separation agreement, and punched in the glass on her door.
Porter called her claims "slanderous and simply false," and the White House released three statements vouching for his character — which Hicks reportedly helped draft. Kelly said:
Rob Porter is a man of true integrity and honor and I can't say enough good things about him. He is a friend, a confidante and a trusted professional. I am proud to serve alongside him.
Press Secretary Sarah Huckabee Sanders added:
I have worked directly with Rob Porter nearly every day for the last year and the person I know is someone of the highest integrity and exemplary character. Those of us who have the privilege of knowing him are better people because of it.
And the White House released this statement from Senator Orrin Hatch, Porter's former employer, and one of Trump's biggest allies in the Senate:
It's incredibly discouraging to see such a vile attack on such a decent man. Shame on any publication that would print this — and shame on the politically motivated, morally bankrupt character assassins that would attempt to sully a man's good name. I know Rob. I've known him for years, both as a close friend and as a personal advisor. He is kind and considerate towards all. The country needs more honest, principled people like Rob Porter, which is why I hope that this cynical campaign to discredit his character ultimately fails.
The Washington Post reports that behind the scenes, Porter offered to resign, but Kelly urged him to stay, saying he believed his denials and needed him in the White House. Then on Wednesday morning, the Daily Mail and the Intercept published the account of Holderness, who described physical abuse that gradually escalated from Porter laying on top of her and grinding a knee or elbow into her, to choking her, to punching her in the face during a vacation in Italy. The reports included photos of her injuries:
Porter announced he would resign, but continued to deny that he abused his ex-wives.
"These outrageous allegations are simply false. I took the photos given to the media nearly 15 years ago and the reality behind them is nowhere close to what is being described," Porter said. "I have been transparent and truthful about these vile claims, but I will not further engage publicly with a coordinated smear campaign."
Holderness said she made him take the photos because "I said I wanted evidence if this should happen again."
The disturbing photos changed the White House response, eventually. At Wednesday's press briefing, Sanders said Trump and Kelly still had "full confidence" in Porter's job performance. She added that there was no set date for Porter's exit from the White House, and "it won't be immediate."
Then late on Wednesday night, White House sources said Porter would be gone within 48 hours. Sanders released a new statement from Kelly, in which he condemned domestic violence — but said he still stands by the previous statement describing Porter as a man of "true integrity and honor."
I was shocked by the new allegations released today against Rob Porter. There is no place for domestic violence in our society. I stand by my previous comments of the Rob Porter that I have come to know since becoming chief of staff, and believe every individual deserves the right to defend their reputation. I accepted his resignation earlier today, and will ensure a swift and orderly transition.
Senator Hatch released a second statement condemning domestic violence as well:
I am heartbroken by today's allegations. In every interaction I've had with Rob, he has been courteous, professional, and respectful. My staff loved him and he was a trusted advisor. I do not know the details of Rob's personal life. Domestic violence in any form is abhorrent. I am praying for Rob and those involved.
But Hatch also told reporters he'd encouraged Porter not to resign, saying, "he's basically a good person."
As many noted on Wednesday, back in October, as Kelly was defending Trump's insensitive comments to a slain soldier's widow, the chief of staff lamented that women aren't valued like they were when he was growing up in the '50s and '60s.
"When I was a kid growing up, a lot of things were sacred in our country," he said. "Women were sacred and looked upon with great honor. That's obviously not the case anymore, as we see from recent cases."
It's not clear why Kelly failed to take action when he learned why one of his closest aides was unable to obtain security clearance. According to the Times, some White House officials are suggesting that Porter misled him, and no one bothered looking into the matter any further.
Two White House officials, who asked not to be identified because they were not authorized to speak about the internal deliberations, insisted that Mr. Porter had misled Mr. Kelly and several other aides about the severity of the allegations. He had portrayed the women as making up stories to cause trouble, and few, if any, aides in the White House considered conducting their own investigations to discover what might have taken place, the officials said.
Regardless, Kelly had an opportunity to demonstrate how "sacred" he considers women by taking their claims seriously, particularly about something as vile as domestic abuse. Instead, it appears he initially dismissed the story, and even when more evidence emerged, he made sure to note he still stands by an alleged abuser.
Holderness told the Post that wasn't the reaction she expected when she told the FBI agents vetting Porter about their marriage.
"I thought by sharing my story with the FBI he wouldn't be put in that post," Holderness said. "I'm telling the FBI this is what he's done, and Jennie Willoughby is telling them what he's done, and the White House says, sure, this is okay? I was let down by that."