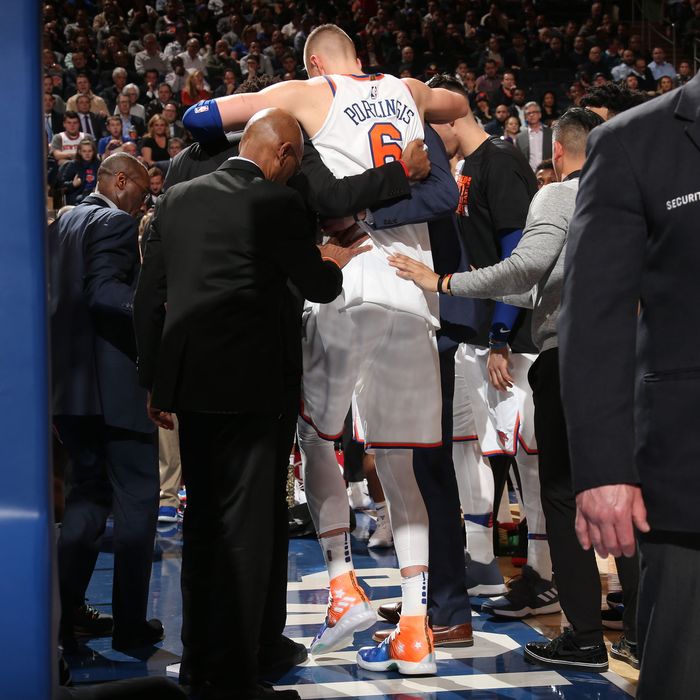 Hobbled unicorn.
Photo: Ned Dishman/NBAE/Getty Images
With just under nine minutes left in the second quarter of the Knicks game against the Bucks Tuesday night, Kyle O'Quinn threaded a bounce pass to a cutting Kristaps Porzingis, who rose up and dunked on Giannis Antetokounmpo. It was a rare case of unicorn-on-unicorn crime, and for a moment, the Garden delighted.
But then Porzingis didn't get up. The seven-foot-three superstar, flourishing in his first season as the focal point of the Knicks and on his way to his first All-Star game, had torn his ACL, the team later announced.
While no timetable was given for his return, Porzingis's season is over, and he's unlikely to return to the court until this time next year. That's a huge blow to the Knicks, who remain in the hunt for a playoff spot despite a 23–32 record.
Those hopes are now all but over. The Knicks would do well to pack it in, let Joakim Noah play 40 minutes a night, and try to snag a top draft pick. Given Porzingis's likely recovery time, next season is probably shot as well, putting Knicks fans in the familiar position of moaning about the present and looking forward to the future. Not that all hope is lost; as they say when a superstar's injury ruins two separate years, "There's always the season after next."