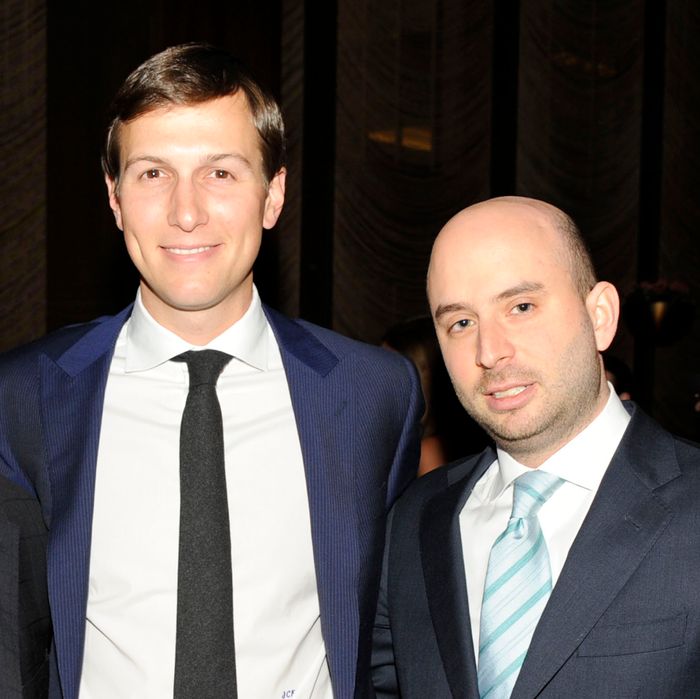 Kushner and Raffel attend the New York
Observer
25th anniversary party in New York on March 14, 2013.
Photo: Paul Bruinooge/Patrick McMullan via Getty Images
The sun was shining everywhere in Washington on Tuesday, but not over Jared Kushner.
For him dark clouds began brewing in the afternoon and by nightfall, had reached Charlie Brown–like severity. What seemed, around 2 p.m., like a potentially minor personnel story involving the White House communications department revolving door appears in hindsight like a sign of impending — if technically unrelated — disaster for the adviser to and son-in-law of President Donald Trump.
As the White House briefing got underway, Axios broke the story that Josh Raffel, a press official who is considered the personal spokesman of Kushner and his wife, Ivanka Trump, would be resigning. Raffel, who is 33, is a Democrat who was still donating to Hillary Clinton as of October 2016, according to BuzzFeed. But whatever his political leanings (Kushner is the son of a prominent Democratic donor, and Trump himself was previously a Democrat), Raffel is centrally defined as a PR professional.
Prior to joining the White House staff in April of last year, Raffel worked in Hollywood and, crucially, in New York for the same publicity firm that employed Hope Hicks, the president's longest-serving political aide and the White House communications director. In the White House, Raffel is well-liked and affectionately referred to, by some, as "Joshy." Working together, Raffel and Hicks — who is not known in Washington as a social butterfly — went from merely friends to best friends, even celebrating holidays together in Greenwich, Connecticut, where her family lives.
But while Hicks testified before the House Intelligence Committee on Tuesday, word of Raffel's impending departure was spreading. For the last two months, Axios's Jonathan Swan reported, Raffel had been telling friends, "he has to deal with family obligations back in New York and will return to the private sector." Several senior administration officials, including Ivanka and Gary Cohn (though notably not Kushner), provided Axios with glowing statements about Raffel's time in the White House. Sarah Huckabee Sanders wasn't asked about Raffel's departure during the press briefing.
Raffel declined to provide comment to New York, but a source close to him said that while specific plans regarding his resignation weren't known, the fact that there eventually would be a resignation very much was: "We had discussed there would be a time [that he would leave]. We had not discussed when." The source said, "I know that he's obviously been under a lot of pressure." The source added, "He does have specific roots in New York, and it was never expected that he was going to do this forever. It ended up being a year."
A senior communications staffer resigning — or being fired, or self-immolating, for that matter — is not unusual in this White House, where, in just over a year, there have been three communications directors and two press secretaries. But Raffel's performance itself was unusual, especially judged against the tumultuous backdrop of the summer, when the mood in the West Wing seemed almost cannibalistic.
With the press, Raffel was generally responsive and professional — if not particularly helpful — in a way that set him apart from the Mooches or Spiceys or scowling underlings in the press office. And unlike the others who shared his senior status, he hardly made headlines himself. If he wasn't making things better for the officials he served, he at least wasn't actively making them worse. For Ivanka and Jared, losing him is a significant blow — one they hardly seem able to afford.
Following the Raffel news, it emerged that last week White House chief of staff John Kelly downgraded Kushner's interim security clearance from Top Secret to Secret, meaning much of the sensitive information previously available to him no longer is. And shortly after that disclosure, the Washington Post reported that officials in the United Arab Emirates, China, Israel, and Mexico, have "privately discussed ways they can manipulate" Kushner, and that his contacts with "certain foreign government officials" have prompted worry in the White House.
Asked if any fissures had emerged in Raffel's relationship with Kushner that might explain his exit, the source close to Raffel told New York that recently, there hadn't been any indication of that. "As far as I know, it is perfectly fine — as of last week it was."