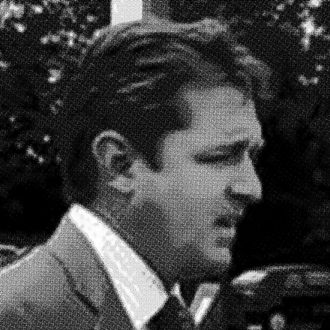 Donald Trump may have more paid-off mistresses than paid-up hotels, as Ronan Farrow reports in his latest investigation for The New Yorker. But there appears to be one man who has found a way to cash in on the president's affairs: Keith M. Davidson, an attorney who makes money selling dirt on Hollywood celebrities.
Davidson recently surfaced as the man who brokered Trump's payment of $130,000 to porn star Stormy Daniels to keep quiet about their tryst. He also represented Karen McDougal, the 1998 Playmate of the Year who sold the story of her nine-month affair with Trump to the National Enquirer for $150,000.
Davidson has operated a boutique Beverly Hills law firm for nearly 20 years, handling everything from medical malpractice to contract disputes. He first appeared in the limelight a decade ago as a fixture in Manny Pacquiao's entourage, zipping around in the fighter's silver Mercedes and dining with him at the MGM Grand. When Pacquiao needed a negotiator, Davidson was his man. Since then, he has established himself as the Better Call Saul of D-list celebrities — and the hangers-on who seek to profit from their proximity to the rich and famous.
His clients have included a woman who reportedly sought a payment from Ashton Kutcher to keep her affair with him out of the tabloids, and another woman who dated "Mini-Me" actor Verne Troyer before selling their sex tape to a private collector. In a 2010 lawsuit, Tila Tequila accused Davidson of teaming up with a "celebrity sex-tape broker" to sell an explicit video she made with her boyfriend on vacation in St. Barts. (The lawsuit was settled, and Davidson says he later represented Tequila in a separate case.)
In an ongoing lawsuit, a Hollywood waiter charges that Davidson threatened him with bodily harm. The waiter, who claims he is owed a hefty finder's fee for helping to arrange Manny Pacquiao's fight with Floyd Mayweather Jr., says Davidson offered him $50,000 in cash to go away. He also says that Davidson warned him that he was "dealing with powerful people that did not care if he got hurt."
Davidson dismisses the waiter's lawsuit as "false, malicious, and frivolous." In addition, he says, the whole idea of him as a sex-tape broker to the stars is nothing but a fabrication. "Let me tell you how boring I am," he tells me, almost as soon as we get on the phone. "You don't want to write about me. I'm so boring. I'm so, so boring." Someone is always throwing mud in Hollywood, he explains, but that doesn't make the stories true. "I just have nothing going on," he insists.
Davidson and his spokesman invited me to call some of his legal adversaries, who would back him up. His spokesman's first suggestion, it turns out, was none other than Michael D. Cohen, the personal attorney for President Trump who handled the Stormy Daniels payment. "Keith Davidson … is a tireless advocate for his clients," Cohen wrote in an email. "In each and every interaction I've ever had with him, he has always been professional, ethical and a true gentleman."
Such testimonials aside, perhaps the most unvarnished picture of how Davidson operates comes from recordings the FBI made that captured him in action. In October 2012, Davidson contacted Hulk Hogan's lawyer, David Houston, and said he represented a client who had come into possession of Hogan's now-infamous sex tapes. Davidson offered to sell the tapes back to Hogan, for a price. Within a few days, Hogan and Houston paid a visit to the Tampa, Florida, office of the FBI and accused Davidson of trying to extort Hogan. Davidson, according to the account Houston provided the FBI, had indicated that such deals were "his specialty," and that he was "in it for the contingency fee." The FBI decided to investigate, and Houston and Hogan agreed to let agents tape future phone calls.
The Davidson who appears in the transcripts is lawyerly but affable. "It's not my intention here to hold anybody over the fire," Davidson tells Houston and Hogan. "I hope I'm part of the solution." Prodded to name a price, Houston offers "a dollar" for the tapes. "I think we would counter with a million dollars," Davidson responds.
In such cases, Davidson assures Houston, he always gives his clients strict orders not to talk to anyone about the tapes. "At the end of the day," he says, "I think and it's our intent that these things go away, they go away forever." He cautions, however, that he can't speak to what will happen if they don't reach a deal. And he gently prods Houston to act quickly. "You never know — by no means is this a threat — how long a good relationship with a client is gonna last," Davidson says. "I can virtually assure you that my client control lasts another week."
Throughout the negotiations, Davidson presents himself as a friendly helper — a man who can make Hogan's troubles disappear. "He had this feigned sincerity," Houston tells me. In one phone call, in order to prove that the sex tapes are genuine, Davidson describes some of the seamy details. But he quickly shifts to flattering Hogan: "Let me tell you too," he says, "I've been a fan of your client for years."
On December 14, 2012, Davidson met with Hogan and Houston at the Sandpearl Resort in Clearwater Beach, Florida, to exchange the DVDs for two payments of $150,000 each. The meeting ended with the FBI, which had been recording the entire meeting, seizing the DVDs and the check as evidence.
The FBI also questioned a woman who served as a go-between for the man selling the tapes. "[She] asked [Davidson] if the selling of the tapes was extortion," reads a summary of her FBI interview. Davidson assured her that it wasn't, because "the tapes were purchased, and property that is purchased can be sold." She told the FBI that Davidson expected his cut of the sale to be 60 percent. Davidson actually "seemed to brag about all of the deals he had done like the [Hogan] deal," the summary continues. He "stated not to worry because he did this thing all of the time."
The FBI never arrested Davidson, and he was never charged with any crime. "These unfounded and scurrilous attacks on his character are demonstrably false and defamatory," says his spokesman, Dave Wedge. Hogan, meanwhile, has sued Davidson for emotional distress and invasion of privacy.
In 2010, Davidson was briefly suspended by the California state bar for mishandling funds from a medical-malpractice settlement. But he's not without his admirers. "He really gets it," says Marty Singer, the pugilistic fixer for many of Hollywood's A-list celebrities. "He's more interested in making money for his clients rather than getting publicity for himself."
So how does Davidson go about making money for his clients? Davidson is loath to say.
"If you called around, I'd say people will tell you I'm one of the go-to guys when there's a big problem," he says.
Is that accurate? I ask. Several moments pass before he responds.
"I just know that's how other people have described me," he says. "All I'll say is, it's a very active practice."