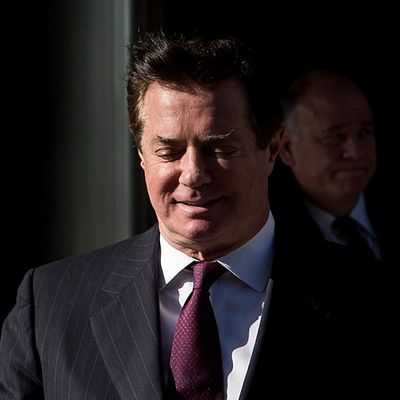 Paul Manafort leaves federal court in December.
Photo: Brendan Smialowski/AFP/Getty Images
Did Donald Trump's former campaign manager Paul Manafort promise a Chicago banker a job in the Trump White House in exchange for $16 million in home loans? Special Counsel Robert Mueller is trying to find the answer, NBC News reported Wednesday.
Mueller is reportedly investigating whether there was a quid pro quo in place between Manafort, who left the Trump campaign in August of 2016, and Stephen Calk, president of Federal Savings Bank, who joined Trump's Council of Economic Advisers that same month.
Manafort would later receive three separate loans from Calk, who reportedly went against the advice of other officials at his bank to issue the loans. According to NBC News, "At least one of the bank employees who felt pressured into approving the deals is cooperating with investigators."
The loans in question were made to Manafort in December of 2016 and January of 2017 and relied on his homes in the Hamptons and Brooklyn as collateral. Though Calk never did receive a White House job, he has benefited from his proximity to Trump. In July, Bloomberg reported that Calk's Federal Savings Bank won a "seven-figure" investment from real-estate magnate Howard Lorber, whom Trump once described as his best friend.
Mueller's interest in the deal between Manafort and Calk comes months after Manafort was indicted as part of the investigation into Russian interference in the 2016 election. Despite the indictment, the special counsel has clearly not stopped looking into Manafort's business dealings. In a court filing Friday, Mueller referred to "a series of bank frauds and bank fraud conspiracies" that amounted to "additional criminal conduct" by Manafort.
News of Mueller's new angle on Manafort comes just as new charging documents were filed against him and his longtime aide Rick Gates. The documents, which are sealed, were filed Wednesday and, Politico suggests, likely involve new charges being added to those that Manafort was slapped with last year.