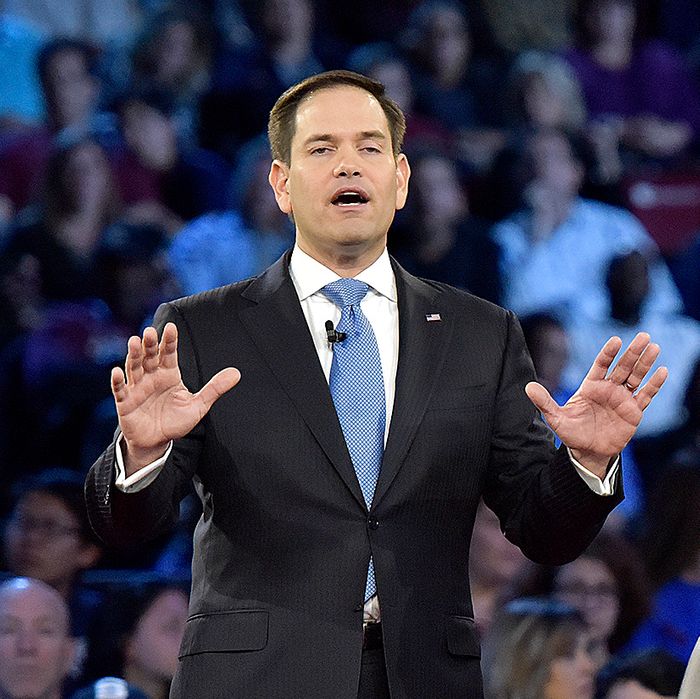 Senator Marco Rubio, left, explains his position during a CNN town hall meeting on Wednesday, February 21, 2018, at the BB&T Center, in Sunrise, Florida.
Photo: Michael Laughlin/TNS via Getty Images
It says a lot about the state of American politics that Senator Marco Rubio was repeatedly thanked on Wednesday night for merely showing up to a CNN town hall to face constituents who are grieving after 17 students and educators were gunned down in Marjory Stoneman Douglas High School. But the fact is that Rubio was the only Republican lawmaker willing to take the stage; both President Trump and Florida governor Rick Scott declined invitations to attend.
While the town hall was powerful and actually felt productive, it seems highly unlikely that any Republican will be eager to follow Rubio's lead. While the senator did announce some shifts in his stance on gun control, students and parents refused to let empty talking points go unchallenged. The exchanges were stunning, though Rubio is regularly subjected to what passes for a grilling in political debates and TV interviews. Here are all the standout moments.
Rubio Displays His Political Skills
In a heartfelt introduction, the senator said he wants to see action on the issue of gun violence, then suggested the main issue is that "we are a nation of people that no longer speak to each other." He failed to note that the leadership of his party has repeatedly shut down efforts to even discuss how to prevent mass shootings.
Father Tells Rubio His Comments Are "Pathetically Weak"
Fred Guttenberg, who lost his daughter Jaime Guttenberg in the shooting, told the senator, "Your comments this week and those of our president have been pathetically weak."
"Look at me and tell me. Guns were the factor in the hunting of our kids in this school this week," Guttenberg said. "And look at me and tell me you accept it and you will work with us to do something about guns."
Rubio said he believes "the problems we face here today cannot be solved by gun laws alone," but listed some measures he would back: banning bump stocks, adding more information to the background-check system, and keeping 18-year-olds from buying rifles (he didn't explain whether he meant assault rifles or all rifles).
However, Rubio said he would not support an assault-weapons ban. "It is too easy to get," Guttenberg countered, angrily. "It is a weapon of war. The fact that you can't stand with everybody in this building and say that, I'm sorry." The crowd gave him a standing ovation.
Rubio then argued that since gun manufacturers have found ways to get around previous assault-weapons bans, lawmakers shouldn't even try to place restrictions on such weapons.
Rubio's "Why Bother?" Argument Backfires
Rubio circled back to his point on the futility of an assault-weapons ban later in the program, saying, "once you start looking at how easy it is to get around it, you would literally have to ban every semiautomatic rifle that's sold in America." The crowd erupted in wild cheers.
Then the senator tried to put Democratic representative Ted Deutch on the spot, suggesting that surely he would not support banning every gun that can do what the AR-15 can do. "Do I support banning weapons that fire off 150 rounds in seven or eight minutes, weapons that are weapons of war, that serve no purpose other than killing the maximum number of people they can, you bet I am!" Deutch answered.
Rubio Breaks With GOP on Arming Teachers, Limiting Magazine Size
Rubio said he doesn't think arming teachers is the right way to address mass shootings.
And he told a student that while he's traditionally been against looking at limiting the size of magazine clips, he's "reconsidering that position" after the Parkland shooting.
Those admissions drew support from people at the town hall, and he noted that "U.S. politics is only aspect of our lives where changing your mind is a bad thing."
Still, that puts Rubio in an awkward position with fellow Republicans. Most GOP lawmakers do not support abolishing large-capacity magazines, and hours earlier President Trump suggested his administration would look into arming teachers.
Rubio Refuses to Turn Down NRA Money
When asked if he would commit to refusing NRA donations, Rubio argued that he's not controlled by the group, saying several times, "people buy into my agenda, and I do support the Second Amendment."
"So right now, in the name of 17 people, you cannot ask the NRA to keep their money out of your campaign?" asked student Cameron Kasky. Rubio could not.
Rubio is one of the Senate's top ten recipients of NRA money, according to the Center for Responsive Politics, accepting more than $3,303,335 from the group during his political career.