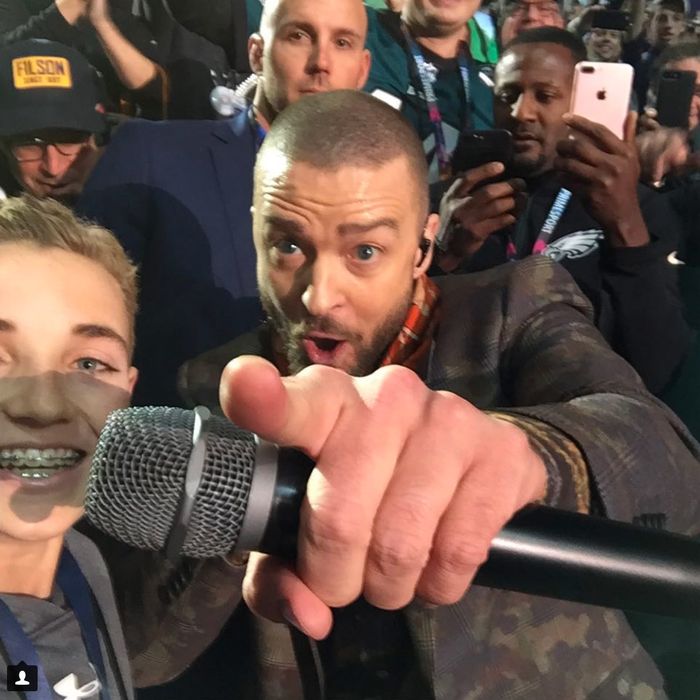 Ryan McKenna and Justin Timberlake.
Photo: ryan.mckennaa/Instagram
Last night, as the Eagles were on their way to becoming Super Bowl champions and Tom Brady was headed toward another sad, postgame sit on a football field, a star was born. Ryan McKenna, a 13-year-old from Massachusetts happened to be in the right place at the right time to snag a selfie with Justin Timberlake in the middle of his halftime show. It was the kind of perfect viral moment you couldn't stage if you tried: McKenna slid out his phone and grabbed the photo with a posing Timberlake. But then the cameras lingered as Timberlake continued singing — Trolls earworm "Can't Stop the Feeling" — and McKenna, looking dazed and possibly a little starstruck, continued staring at his phone while the halftime show carried on around him.
Within minutes, McKenna had become a meme. By Monday morning, McKenna would have over 17,000 Instagram followers (and rapidly rising) and a new title as that Justin Timberlake Selfie Kid. Select All started talking with McKenna via Instagram DM during the game — "Is this ligit," our teen hero astutely asked at 10:06 p.m. when we first started chatting — and finally got a few minutes this morning to talk about his newfound fame and why it only looked like he was rudely staring at his phone while his favorite performer was putting on a live show three feet away from his face.
Let's start with what was going through your mind when you saw that Justin Timberlake was coming over to you.
I didn't even know what to think. He is my favorite singer and the song he was singing, "Can't Stop the Feeling," is my favorite song of his. I just went for it. I was like, This is a once-in-a-lifetime opportunity.
Totally. So you saw him coming up toward your family in the crowd and busted out your phone. What was the strategy? Did you just open the camera or were you using a particular social app like Snapchat or Instagram?
So I was taking a video and my phone shut off, and then I had to reopen it, and then I got the selfie.
That's stressful. So in all those memes with the photo of you staring at your phone — where people are joking that you're Googling "Who is Justin Timberlake" — you were actually just trying to get your phone back on?
Yeah, if you see all the memes that's why I was on my phone. I was restarting it.
So, obviously, a big part of the gag with those memes is that you weren't singing along, and people were joking that you didn't know the words. Do you know the words to "Can't Stop the Feeling?"
I'm a big fan of his and I know all his songs. I listen to his stuff all the time. I definitely know the words. That's my favorite song of his.
After he walked away, what were you feeling?
I didn't think this was going to happen. I was talking with my family and saying I couldn't believe I'd gotten a selfie with Justin Timberlake at the Super Bowl halftime show.
How has it been becoming an instant celebrity, both among your friends and around the world?
My phone was going crazy. I've gone from 400 followers to almost 20,000 now on Instagram.
I saw that your school Instagrammed a photo of you during the game and noted that you were expected to be back in Massachusetts this morning for mandatory morning meeting. Did you miss the meeting?
Yeah [laughs], I missed the meeting. I'm still in Minnesota.
You're from Massachusetts, so I'm going to assume you're a Pats fan. I guess you're probably having a better Monday than Tom Brady … but were you bummed after the game?
I was a little disappointed.
Okay, thanks for taking the time to talk to us today. Once more for all the haters out there … you definitely know the words to "Can't Stop the Feeling" and you definitely know who Justin Timberlake is?

Yes.