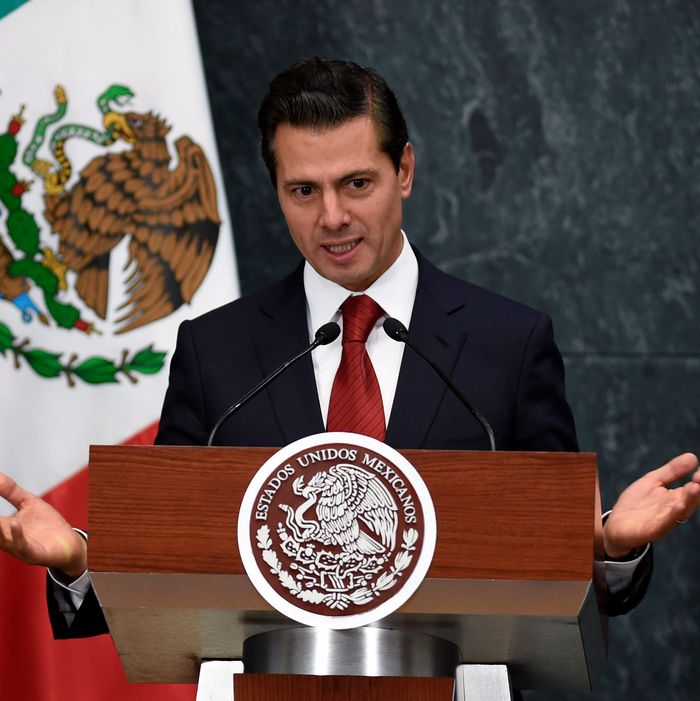 Peña Nieto is apparently opposed to being made a fool of on the White House lawn.
Photo: Alfredo Estrella/AFP/Getty Images
Plans for Mexican president Enrique Peña Nieto to make an official visit to the White House within the next month have been canceled after a contentious phone call between Peña Nieto and President Trump last week. The Washington Post reports that, unsurprisingly, much of their 50-minute call on Tuesday centered on Trump's infamous border wall and who would pay for it, and a Mexican official told the Post that Trump "lost his temper" during the call.
Both during his campaign and as president, Trump has promised that Mexico would pay for a wall along America's southern border. Peña Nieto has repeatedly pointed out that Mexico will not, and last week was seeking assurance from Trump that he would back off the claim, worried Trump would embarrass him during the visit, particularly since he is trying to get reelected in July. Instead, per the Post, Trump reportedly explained that he "believed it was unreasonable for Peña Nieto to expect him to back off his crowd-pleasing campaign promise of forcing Mexico to pay for the wall."
As a result of the impasse, both countries later agreed that getting the leaders together at the White House wasn't a good idea. Peña Nieto also canceled a previous planned trip to Washington soon after Trump took office. In a leaked a transcript of a call between the leaders around that time, Trump told his Mexican counterpart that he had to make Mexico pay for the wall as he had promised, and "if you are going to say that Mexico is not going to pay for the wall, then I do not want to meet with you guys anymore because I cannot live with that."
Two weeks ago, a Mexican delegation met with Jared Kushner, Trump's son-in-law and senior adviser, and others at the White House to go over the trip plans. In addition to coming up with a solution for the Israeli-Palestinian peace process and revising his foreign contact disclosure forms, Kushner is also responsible for managing the U.S.-Mexico relationship. The Mexican delegation apparently left the meeting thinking it had assurances that Trump would not bring up the border wall payment plan, but now likely understands that no one on the planet can ever give assurances as to what Trump will or will not say.
In its 2018 budget, the White House asked for $18 billion for the first phase of Trump's border wall. That may seem like Trump is expecting taxpayers to foot the bill, but he has since maintained that his campaign promise means he'll get Mexico to pay — or pay us back — for the wall.